About
ッ ړײ ℒℴѵℯℒℴѵℯℒℴѵℯℒℴѵℯ
Hello Citizen!
3nodding
I'm Stephanie, and I love to write.
whee
I'm neck deep in the Supernatural Fandom, I'm a HuffleClaw, if you don't know what that is then you're an uncultured swine! Hah, just kidding, but no seriously, you're uncultured. I'm a movie enthusiast, and married to my bed, my most faithful partner. I'm on a Sinking Ship within all my fandoms. If you can't tell, I'm a tumblr-er. That's it, if you have any questions or comments, feel free to message me.
heart
Enjoy my profile my lovely little lemon drops.
4laugh
If not, then oh well, I don't work to impress you.
Dean is a mess, Sam is a nerd, Castiel is a precious flower, Crowley is a drama queen, Charlie is my baby, and Bobby was too good for this world. All you need to know.
Dean and Cas are Hella Gay for each other, pass it on!
My Orientation?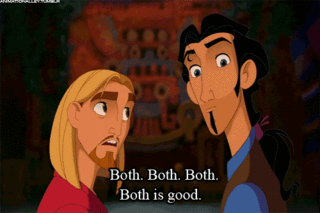 I try to do Poetry, but I'm just a Poe boy from a Poe family.
©I am bird.
Noble and true.
Send me out;
I come right back to you.
Though I bite and I nick,
And Im sure to kick,
You keep me around
Till you blow out your stick.
Open the window to a full moon.
Tell me a place and say, See you soon.
I stretch out my wings,
Ready to soar.
To feel the wind.
Oh! Im ready for more!
I kick off the sill,
I fly to great heights.
I look down at the city,
Yet I see no lights.
This place is asleep,
Asleep or dead.
I look till I spot something.
A lone, figured head.
To walk alone,
They must have no home.
I hear their weeps.
Like soft little peeps.
But I mustnt stay,
I have to relay.
So I fly towards the sun,
I fly while they run.©
♠♠♠♠♠♠♠♠♠♠♠♠ 
A lone figure saunters up, pauses and with a slight tilt of the head his words flow freely as he says.... 
Goodbye
...just before taking his leave.
♠♠♠♠♠♠♠♠♠♠♠♠

 ♥
   ღღღღღღღღ   
                                 ~♥~♥~♥~♥~♥~ 
                                    Thanks! 
                                ~♥~♥~♥~♥~♥~   
Friends
Viewing 12 of 221 friends
Journal
BOREDOME
hey im holy stephy23 uv course if u dont kno hu da heck dis is den get off my page jk welcome to my journal i am planing to be bored... look im already bored it worked.
Signature