About
glory
decline
delusion
arrogance
silence
anger
madness
♪♫♪♫♪♫♪♫♪♫
hey. i'm considerably emo in style, but that's merely one of my charms. <3 not all emo kids are whiny little pricks who all listen to 'dark' music, right? ..okay, so maybe i just dress a little emo. i don't really act the part.

i love talking to people. i love people. but just because i love you doesn't mean i won't be brutally honest. i am not afraid to say something if it must be said.

i love music. i am a keyboardist. i almost got into the guitar about two years ago, but decided it wasn't for me. some day i will be the world's greatest techno musician and my music will appear on dance dance revolution. maybe some day. <3

i am a huge techno junkie. i also listen to rock, classic rock, jazz, and a lot of stuff from the baroque/romantic era. if you name it, i probably listen to it. ..except country and rap. ew, rap.

i love to doodle, especially while listening to music. i like drawing out what the song makes me think of.

i love acting. if there is an upcoming play, i will probably audition for it.

i hate fakes. i hate posers. i hate people who won't be who they want to be for any reason. embarassment, wanting to fit in, being told to be someone else.. forget that. be yourself.

i can be lazy. if there is a subject in school i am not interested at all, i probably won't try to do all the work. don't get me wrong, i'm a B student, i just don't really know where geometry will get me in life.

i enjoy chocolate more than most people.

my favorite colors are pink and blue.

i go both ways. <3~

pool's closed.

current favorite shows:
heroes (omg peter petrelli <3<3)
metalocalypse
aqua teen hunger force
family guy
south park
drawn together
the oblongs
the boondocks
.hack//sign
naruto
futurama
halfway home

current favorite musicians/bands:
asaki
the postal service
dream line out
des-row
dj taka
panic!
fall out boy
terra
sota fujimori
dragonforce
black eyed peas (not fergie alone)
summercamp
matchbox 20/rob thomas
david bowie
orange lounge
santana
goo goo dolls
augustana
dir en grey
my chemical romance
linkin park
gackt
asian kung fu generation
maroon 5
train
coldplay
more later.


Friends
Viewing 12 of 32 friends
Signature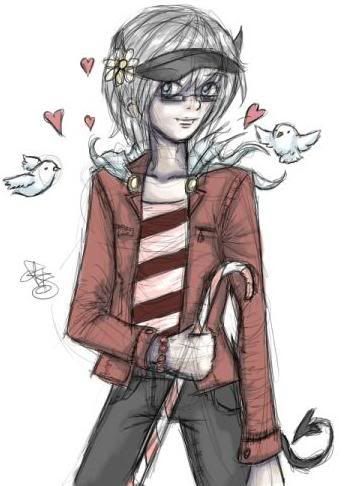 we should be friends.