About
"
All the world's Jewels will be mine..
"
gaia_diamond Click here for Screenies! gaia_diamond
"
Aren't you the curious one? If you give me a Chaos Emerald, I might let you know more about me! ♥
"
Rouge the Bat is a world famous treasure hunter. Her voluptuous and daring attitude turns any man's head. Her policy though is that duty comes first, but she has a big interest in jewels. Her figure, speech, and behavior masks her true personality.
Rouge is a strong-minded young woman, a fearless, treasure-hunting, ambitious, independent, flirty, ruthless, calculating narcissist who most people see as only caring for herself and her gems. It is shown in Sonic Generations that Rouge can be referred to a temptress, due to her flirtatious and selfish ways. Her carefree and playful attitude can be fun or even annoying for the other characters of the series, especially Knuckles. She has a lot of pride and starts to fight dirty when facing a superior opponent, such as Knuckles (when it comes to power) or Tails (when it comes to flight). She can also show a bashful side, such as the time Knuckles saved her life from falling into her doom and became very embarrassed before disguising it with disgust and outrage.
Rouge is also at times a government spy who works for her own good. Rouge has a great obsession for jewels or even anything else that shines or glitters. She has been known to seduce people with her attractiveness to get what she wants (such as kissing Tails in Sonic Battle). However, she has, on occasion, shown that she can be heroic. In the final events of Sonic Adventure 2 Battle, she helped to save the planet. In Sonic Heroes, she stopped Shadow the Hedgehog and E-123 Omega from killing each other, and is seen battling Chaotix and Sonic as liabilities to her quest to finding Dr. Eggman's supposed hidden treasure room. In Sonic Battle, when Shadow was injured and needed a place to stay, Rouge helped him. In Shadow the Hedgehog, she did other laudable things, such as rescuing a Chaos Emerald from the doomed mainframe, destroying the evil monster Black Bull, and assisting Shadow in defeating Black Doom as well as showing concern for Shadow's welfare at the end of the game.
Recently, she has been becoming less selfish, as can be seen by her actions towards Shadow in Sonic the Hedgehog (2006) and Sonic Rivals. However, as shown in her portrayal in Sonic Free Riders, which depicts her as a very cold and only caring about her and the cash prize suggest that she has not changed much, regarding her interest in jewels and riches. This is proved as she couldn't care less that her robot team member broke down and even went on to insult it as well.
Rouge is often known to switch between the sides of good and evil whether to succeed to get her jewellery or to save the world from danger.
gaia_diamond
Friends/Allies
Shadow the Hedgehog (Best friend)
E-123 Omega (Close friend)
Knuckles the Echidna (Also a rival)
Sonic the Hedgehog
Miles "Tails" Prower (Also a rival)
Doctor Eggman (Depending on her goals)
Rivals
Knuckles the Echidna
Wave the Swallow
Amy Rose
Miles "Tails" Prower
Vector the Crocodile
Scrolled all the way here, huh?
Well now.. I am busy finding Chaos Emeralds...
Leave a comment, would you? ♥

♥--[Behind the pixels]--♥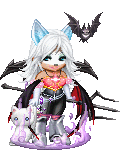 R0uge The Bat (Gaia renamed my old account:
R0uge Da Bat
to give me this one back ♥ )
(My avatar, but old generation style)
2004 - 2010 - current.

My name is Sarah ♥
Been on Gaia since 04'
I am nice, I enjoy meeting new people, I don't bite hard. So please don't be shy to talk to me.
I enjoy drawing and writing - I dislike drama and people who cause it.
What I love is creativity - I love seeing others who have that.
I'm kinda shy ... so sometimes I don't talk much either.
Heaps of people have known me as Rouge/R0uge through my years and have been cosplaying her since 2006-07ish and onward.
I enjoy it so much and I find Rouge is a big part of my life, even if she's just a character.

I love and support: Shadouge.
♥

Currently collecting ALL Gaia Diamond items. ♥
My guild:
Guild's I'm in:
Journal
Rouge's things
..
..
Signature
[img:eca989abab]http://i1323.photobucket.com/albums/u590/rubym00n3/Home_Run_Bat_Rouge__item_less_by_Hyper_sonicX_zpsfygf3jjx.gif[/img:eca989abab][b:eca989abab]All the worlds jewels will be mine! ♥[/color:eca989abab][/b:eca989abab][/size:eca989abab]
[img:eca989abab]http://i1323.photobucket.com/albums/u590/rubym00n3/self1_zps45gpwzal.png[/img:eca989abab][/align:eca989abab]
Please quote me in case I miss your post![/size:eca989abab]
[/align:eca989abab][/color:eca989abab]