quog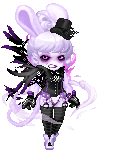 Details
Member Since

06/29/2006
Location

Auckland, New Zealand

Gender

Male
---
Interests
About

[TBA]


Welliepoo is super rad, She's wonderful and awesomely cool.
Allthough not as awesome as me mind you...
My About Me is now all about her.
I totally win B)

WeLLiie B00tz
Quog I love you!

More than skittles!!!!

WeLLiie B00tz
daydreamer_girl
Speaking of skittles, my favorite ones are the peaches and cream ones. I think that's what they were... they were so good!


Omg I've never had those!
I like the origional ones better than anything apart from quog


Journal
Random... ORLY? YAHRLY!
if you know me, you know this journal will be chock full of random nonsense, if you dont... you have been warned :XD
Signature
[spoiler:a45c940a71][img:a45c940a71]http://i.imgur.com/JQFCRjR.png[/img:a45c940a71][/align:a45c940a71][/spoiler:a45c940a71]