About
My name's Priscilla I like to write short stories and sometimes in my spare time I write some stories. Yeah its pretty random, but it passes time
xp
. It's really fun actually when you have a very creative imagination like me or anyone else. I love expressing myself i'm kinda shy but, when i'm roleplaying is like i'm a whole different person living in a fantasy world with no rules, laws, or just being weird it's just a place I can describe myself in my own language that noone can understand. When you really think about we all have something that nobody can see, hear, understand, or comprehend it's just you and your world.
smile


RPC
Race: cat demon, Age: 19, Powers: Darkness. Story:Back then the world was full of demons killing families devouring anything that came in their path. The humans were defenseless against their ravanise hungry for human flesh as they came hundreds and hundreds everyday. Luckily a few warriors and demon slayers stood against the demons and thus the great war began, wither the human race would contiune or not. Almost 3 decades of war raged and finally the demons through back in lesser numbers hiding in wait of their revenge. Since then the humans have grown throughtout those years and have lived in peace thanks to those demon slayers and warriors that still live on. But now the demons have come back and be warned the demons have found a way to protect themselves from being killed. Their seductive eyes, sweet vioces, and beautiful appearance may be the last thing you every see or hear. They hide deep in the forest hidden waiting for their chance to attack they're prey. Priscilla quickly jumps from branch to branch in the late night. Her long dark black hair sways through the cool night air, her bright yellow eyes glisten in the darkness as she stops standing on the branch. She enjoys the cool breeze going through her hair as her long black tail shifts back and forth behind her, as her ears perk up listening to anything around. All she hears is the silent night and leaves blowing against each other. She slowly lays down upon the branch streching out on it as moon shines high in the star filled sky, while looking up she sees a shooting star she smirks thinking of her wish as she lays there. She sits back up then jumps down to a small stream she drinks a little as the water trinkles down her mouth back into the stream down from her chest, she lets out a relaxing sighs before getting back up again. She pulls her hair back from her face as her bright eyes glisten in the pale moon light,as she contiunes on her way.
Fox Form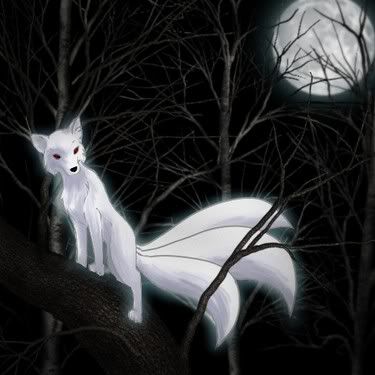 Elemental form

Add Glitter to Pictures
Race:Elemental, Age: 19 Powers: Light. Story:Mya quietly walks along the path to her home town, the sun is going down and the path begins to get more difficult to see. She slowly raises her hand and concentrates, suddenly appearing a small ball of light energy appears in her had as it brightness powerfully in her hand glisteening the path. She continues walking along the path as she looks up into the sky as the stars start to appear, she looks up ahead and see the lights from her home town. She stops for a few seconds and decides to go to the lake she turns left onto another path and walks up to the lake. She sits down on side of the lake looking at her reflection as the light shimmers from the water. She gets up and continues back to her home. Only a few elementals are alive since their almost extinction of the humans. elementals were beings gifted with the power to control water, air, light, darkenss, fire, and earth. Jealous and fearful of their powers they slayed the them one by one till it became only a myth that they were elementals. Mya was the only one of hr kind that could control light in the world, her father gave his life to protect her she was 6 when it happened since that day she was on her own. Training and understanding her gift and power and since then she lived peaceful amoung the humans trying to live a reghular life. But soon her life will change forever as the great war comes to take vengance on their kind and rid the world of the weak and pathetic humans.
Witch RPC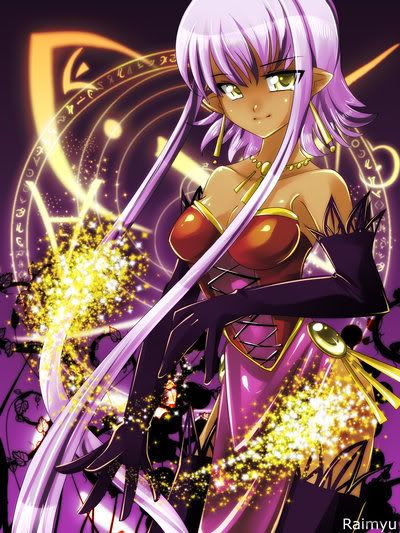 Race:Witch(duh), Age: 19, Powers:Spells and cruses. Stroy: Nai was a special child her powers developed at a very young age and her brith mark symbolizing a dove and moon marked her as the chosen Echantress of Mora. About 100,000 years ago the Echantress of Mora gave peace to the Kingdoms of Laira her powers was the most devasting power in the world. Others was jealous of this power and decided to seize it for themselves to control the kingdom, while the others thought of it as a symbol of peace and protection. Thus the great war began to see wether the power of the echantress will pravail and it did
smile
. The Enchatress of Mora seeing the death and pain of her world became to much for her, so she sealed her power away hidden from her enemys, but still defending her people. The mark of Mora will come every 100 years when the nxt enchatress is born to take my place, and after the next hundred years the mark was passed to Nai. But will her powers be used for good or will the evil of the coruptt sezie her to control the world all hope lies in this one woman. Nai stands in a room quietly practicing her magic, its been a one week since she ever tired anything new. "Sighs. It's been a whole week since I practice anything else. I've already mastered this spell a dozen times." She looks around then peers outside of the room for anyone, then quietly closes the door. "I can handle another spell." She smiles happily while running to the bookcase, she looks around for any spells she likes. "Lets see here. "Turnning objects into Animals." NO,"Giving warts to Humans you don't like."NAH. "Summoning powers and Spell chanting." This looks good." She takes the book and opens it to a interesting spell. "This one looks good." She places the book down and starts the chant. "Oma~chay~mai~Sola~est~ci!" BOOOOOOOOOOOM. "Coughs. Okay maybe that one was to much summoning power." She hears a loud vioce from outside. "NAI!" "Uh oh, i'm in trouble." She says a chant and teleports to her room.
Pirate RPC
Race:Human, Age: 19 Story:Sumne walks aborad the deck streching comfrontablely in the morning sun. "What a beautiful day for rading ships. I wonder what kind of treasure i'll find this time." She says smirking, she walks upstairs to the upper deck then goes to the table where her map was. "Lets she here." She finds her destination then turns back to her crew. "Well people looks like we're in for a good rade today." The crew laughed and cheered. "Let's get ready to sail. To the north by 1 day then turn west, LET'S MOVE PEOPLE!" The quickly go to there places and shift the sails in the wind as it blows clamly through the cloudless blue skies. Sumne goes below deck and into her room she closes the door half way as she stands proudly at the richies that awaits her, she smiles then goes to her window. She looks out seeing the clouds past slowly over head leans her head against the opening of the window smelling the sweet salt seas as the ship sways back and forth in a rythmic tune. She gets up and goes back out to the deck as her crewmen chant and do their duty's as ordered. Sumne was the most feared pirate of the seven and a half seas, she sailed stealing and taking vaulables for many years. She was the youngest and most talented pirate that evry sailed. A rewared was placed on her head for 1MILLION for her death and 3MILLION gold to her capture alive and even with that glorius bounty for her head she still wasn't caught. now posing a threat the king's royal Coast Army was sent to capture her, but will they I seriouly doubt that
wink
.
Samurai RPC
Race: Human, Age: 19 Stroy:Lunai practices her ninja skills on the side of the vilage feilds the high grass and thick trees, made it a perfect spot for lurking in the shadows and training without anyone interupting her. She pants heavily training hard from the rise of the sun to the late sunset,it was still bright as the people start to light there flames for the night. She drinks some water for a stream then starts to head back, she jumps fromm branch to branch looking above the town then jumping down onto the street. She walks up to a small cottage and light some of her own light, she lived alone by herself and her 2 dogs, that came running up to her. "Hay there you guys missed me?" They both licked her happily as she gets up and puts food in there bowls. As the day latens in the night she lays down on her little pad as she looks out the window. "Looks like the enemy is still moving, hopefully they won't come her, but who knows." She slowly goes to sleep as her two dogs curl up beside her. Many years our land came under seige by the dark lord Hazu, his armor wipped out many of our allies and villages if anyone defied his rule they would be elminated. So far our village has been safe joining together all of our survivng groups and generals we was able to keep our home safe. Still bulding and develpoing our home to its great kingdom from before. Yet, i still fear for the worst as Hazu spies still linger in our home getting all our information and killing our generals one by one to gain back his power. But, if they want to take my home, they have to kill all the generals and i'm not planning on dying anytime soon.
Warrior RPC
Race: Human, Age: 19 Story:Adalira was quietly walking around the palace at her post as always, it was around midday still bright enough to see through the shadows behind the large castle walls. It's been a few hours now and nothing seems to be wrong, she sighs bored of her daily routine everyday. She walks up to a gaurd at the gate and leans on the wall beside him. "What's the matter Adalira?" He says looking through his thick helmet towards her. "Nothing's wrong I guess that's the point. When I decide to be a knight I thought it would be more adventorus." He laughs. "Not what you expected huh?" "Tell me about, it's always the same thing I just wish something interesting would happen for once." The horns sounded to annouce the two princes was coming, they stood straight and honorable as they came forward. They were both handsome, tall, and proud of themselves as they apporached, one stopped infront of Aadalira it was the eldest brother."Good morning, knights how are you this midday." "Fine your majesty." When she really wasn't. "The prince looked deeply into Adalira's eyes. "I hope to see you tonight at the Masque." "Of course your highness." "Please call me Aidan." He smiled and conituned walking, the other soilder standing beside her said, "Hmmmmm, What's this now. "I hope to see you tonight?" "I'm just his protector that's all." She said shyly. "Yeah right." He said walking off. "Shutup Drain." She said blushing running after him. The two princes were actually twins but Aidan came just a few seconds before Adrain, his little brother. Since they were children I knew them my father was a knight and since I was an only child and my mother died , I was with him and the brothers too. When my father died during a war, I was old enough to become a knight so a did, I was taken by my uncle Fracias. Since then i've always been here like it was my home and in a way it was. But, as the years went the war was over and i was still guarding the castle...FOR WHAT! But, for some reason I beleive tonight something is going to happen, even if the war is over there are still some enemys we are not aware of.