About
What happens when Emma doesn't use markers in a long time...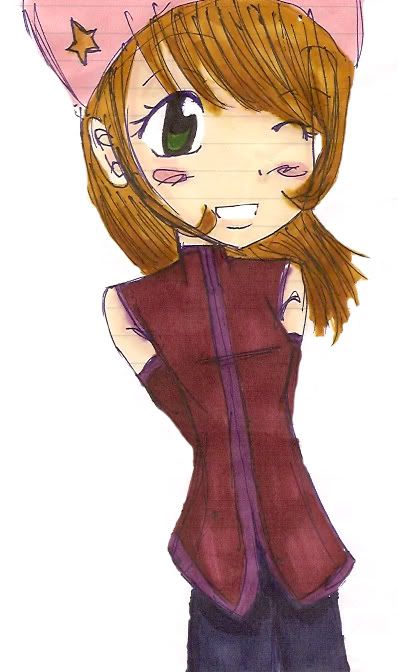 Lol. xD;;
BASICS:
Name: Emma?
Location: Canada
Age: 13
Birthday: March 3rd
Eyes: Hazel!
Hair: Blonde-ish
Height: 5'4"?
Zodiac: Pisces
FAVOURITES:
Colors: Rainbow
Movie: Too many!
Sport: Badminton
Place: France
Show: Much Countdown
Band: Too many!
Song: Teardrops on my Guitar by Taylor Swift
Candy: Skittles
Animal: Every one of them
Season: Winter
Car: Doesn't matter
Book: Cirque du Freak by Darren Shaw
Flower: Daffodile
Ice Cream Flavor: Chocolate
WRITE UP:
Ahh! I hate profiles. That's why I stole this from my friend Katie! xD;; Well, uh, some random girl that discovered Gaia in grade 4! xD;; Well, I'm still here, many accounts later. LMAO xD;; Well, have a birthday to go to, so thanks for reading this crappy little thing about myself! <3
Journal
Meh Diary
Alot... randoms, art, sites, school, family, friends... Alot, lol!
Multimedia
Signature