About
P
h
e
n
o
x
A
.
I
Hey, my name is Alex, im Thirteen going Fourteen in Decamber.
I have my own band named Blind sight, so far it's been going great for us! and im the lead guitarest, im pritty good too.
My fav music is Metal or Heavy Rock, and also like Punk music.
Well my fav Bands so far are...My Chemical Romance, 30 seconds to mars, AFI, Three days Grace, Billy Talent, Creed, The Used, i will desplay them on my pro as you see. My fav Celebrity is Gerard, as probebly you know he is the lead singer of My Chemical Romance, they are my fav Band, there is Gerard, Mikey, Bob, Franky, and Rey. Well i don't want you too know too much about me so PM me, Add me and let's talk or something.
Im posting my pic soon, be patent!
The End

Name-Alex
Gender-boy
Age-13
From-Canada/Alberta
Birthday-12-25-92 (I know, it's weird :XP: )
Intrests-Guitar, music, Kitties, chicks!
freindly?-Well...ya duh
mrgreen
mrgreen
rofl
:XP:
xd
:
heart
sad
cry
emo
pirate
emo
stare
ninja
question
cry
stressed
sweatdrop
3nodding
biggrin
smile
redface
emo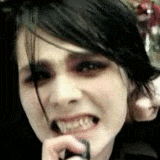 Gerard Way!
And the band
________My fav Bands________
My Chemical Romance
AFI
Three Days Grace
Billy Talent
Creed
30 seconds to mars
The Used
Panic! at the disco
Guns in' Roses
Alexisonfire
Slipknot
Evanecsence
The Rockontours
H.I.M
Disturbed
The Red Suit Apperatus
Slayer
Fav Tracks/Music
Red Flag-Billy Talent
Im not okay-My Chemical Romance
Drowning Lesssons-My Chemical Romance
I write sins not tradities-Panic at the disco
Devil in a midnight mass-Billy talent
Helena-My Chemical Romance
This could be anywhere in the world-Alexisonfire
The Kill-30 seconds too mars
Miss murder-AFI
Kiss and Control-AFI
Kill Caustic-AFI
Intoxication-Disturbed
Call me when you sober-Evanecsence
Friends
Viewing 12 of 48 friends
Journal
Sweet
sup, umm..welcome enjoy my profile!
Multimedia
Signature

Evil Vs Good



My other Dream Avi's you could give me a vote out of ten if you want.


LOL
My Chemical Romance!