hey
Hey there! Nice to know you've taken an interest in me. Welcome!
What's there to say about me? I'm 19, I live in Florida, I'm in my sophomore year of college, and I like theatre, books, music, TV/film, and the Internet.
Wow, I haven't been on in a REALLY long time. I'll admit, I was doing a Gaia boycott; this may or may not last. I do plan on sticking around for the Halloween event (which always rocks), but after that...maybe I'll come around for events, but I feel that maybe it's time for me to leave Gaia. It's a shame, because it's been a part of my internet life for so long, but still. Some things must go as you grow older, and Gaia is one of them. So I'll see you at events, but for now...bye.
HAPPENINGS IN MY LIFE
I am participating in the Halloween event this year, on the side of B.O.O. To prove my affiliation, and because it won't fit into my first-ever signature with images that I personally put together(!), here's a B.O.O. symbol:
Fight for the side of good! Fight for the Overseer! Fight for B.O.O.!!! OK, I'm done.
However, it is a bit unfortunate that it causes such conflict amongst friends. Behold Natasha and Devon:
Dear me, will they ever be able to move past it? And I wonder who Lance is supporting....
MY AVATAR RIGHT NOW
Aww, you guys wanna cuddle! OK!
FUN EXTRAS
These are threads that I've regularly been posting in during the last few days; if any of these organizations appeal to you, we could always use more!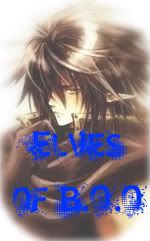 Well, bye! Enjoy my profile, however depressing it may be.