Petra Maijer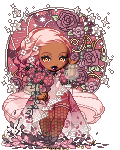 Details
Last Login

05/15/2021 2:53 am

Total Posts

9396

Posts Per Day

1.65

Member Since

01/01/2006
Location

Wisconsin

Gender

Female
---
Interests
About
Davan is taking a break from running around in my sig for a little bit.
Aww, is the little rattie tired? *fluffs up a tiny bed for him to take a nap in*
Aeren gave him some treats, look at him gnaw, how cute.
As of Oct 2014 I'm back and poking around.
Journal
Petra's Life, and Gaia Insanity
Whatever is going on to my avatar, and to me, that effects my gaia life and that my friends might want to know about.
Signature

[b:20d8829519] Questing Plague Noir! [/color:20d8829519][/b:20d8829519]

[b:20d8829519] The great Davan, adorable rattie, ruler of Soviet Ratsia, and lord of the pile of tin cans north of the car parts, demands your love and cookies.[/color:20d8829519][/b:20d8829519]
[/align:20d8829519]