A PANDA TURNED HUMAN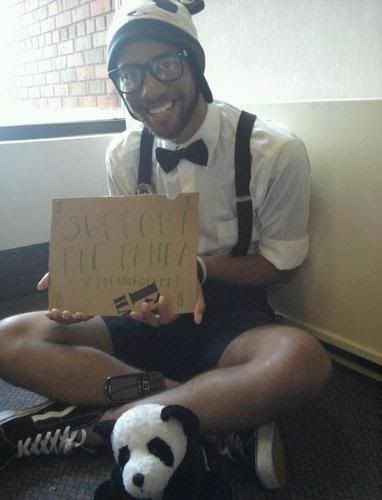 Wow is has been so long since I've been on gaia, but I'm hoping to change that. Let's see what can I say about myself?? Let's start at the beginning...sounds like a good place to start right?? Right..Okay lets go:
Hi there everyone :]
I'm Panda the panda who holds a panda named P-Chan :]
I'm 21
I'm gay
I live in Minnesota
I'm nice, kind, out-going, random, and at a times a bit of a b***h, but in the end my friendships are for life and I'll take nothing less.
I have a cat named Miles, and yes there are some pictures of him floating around here somewhere. I'll make a folder for him.
I enjoy conventions and cosplaying.
I'm a part of the cosplay group: NYAHProductions
DA:
http://nyahproductions.deviantart.com
FB:
http://www.facebook.com/pages/NYAH-productions/138331866240096
YT:
http://www.youtube.com/user/NYAHpro
Tumblr:
We-Loves-Cupcakes.tumblr.com
I do partake in the drinking ;]
Feel free to watch me and I'll do the same.
I enjoy music, movies and tv.

You can also find me on my personal stuffs like....
Tumblr:
mind-ofa-panda.tumblr.com
YT:
http://www.youtube.com/user/PandaKunX3
DA:
http://tackoonxd.deviantart.com/
Twitter:
https://twitter.com/Mind_Ofa_Panda
Flickr:
http://www.flickr.com/photos/eyes_ofa_panda/

Otherwise this is me in a nutshell.
Anyway I hope we can become friends and be happy and laugh and get to know each other.