About
My name is Amara Lea Anaya Gillespie Snow-Miller.
I was born On the 8th of February in 1522.
I am a girl. I am heterosexual with bisexual tendencies.
I live on the outskirts of Seattle, Washington, USA. I love the weather and the culture here.

In my spare time, I design clothes, draw/doodle, sleep, play videogames, read, and sing.
I am single and I will not be your internet girlfriend.
I am an amateur model and I am looking for a job, preferably selling Christmas trees!
Someday, I hope to travel all over the world, starting with Japan and England.
I also want to be a fashion designer, photographer, makeup artist, and cartoonist/comic book writer.

My favourite things in the world are art, the friends who I am closest to, fashion design, gothic lolita, beautiful boys, makeup, unusual films, visual kei, jrock, and kissing. My favourite colours are red and pink.

I am not an anime fan. Sometimes I read manga, though. I like Othello, Paradise Kiss, DOLL, and Battle Royale.



-x-



If you are here looking for avatar art, I do art commissioning. Right now, I don't have a set shop because I want to have more examples to show before I start a shop, so prices are fairly cheap (I think).

Here is an example of my artwork. This is myself and my friend, Hubbyoed: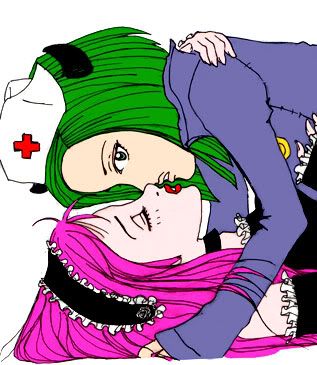 Friends
Viewing 12 of 30 friends
Journal
Robotic Amara's Adventures in Wonderland
Down the rabbit hole she fell ...
Multimedia
Signature


♥ SWEET & LOLITA ♥
~Kokoro et la Rococo