About

I am
Nazrin
. I am 23 years old. Persian heritage and proud of it. My favorite food is by far pizza, I drink tons of coffee, I play guitar all the time(and way better than you ever will) and I am generally very reclusive, aloof, and introverted. Most tend to think that I'm very stuck up and arrogant, but their opinions aren't important. I really like Disney, Harry Potter, and many other things. My favorite dog is by far the poodle and always has been. I likely do not value your opinion. I love skateboarding and also fishing. Don't let the looks fool you, I hate most liberals. I'm a Conservative Republican, though I'm not religious. I hate juggalos, hippies, wiggers, ghetto hoodlums, illegal immigrants, hipsters and 99% of people in general. Anyways, I'm also obsessed with insects, spiders, and arthropods in general. Any questions?
Here is my tumblr for those of you that use it. Follow me:
My tumblr
Formspring
Old pic with faux fur coat and flowery victorian hat.

Me as a blonde :3

Favorite music
I listen to a variety of music, but I generally like anything with strong melody. A few of my favorite genres, bands, and artists are: Power metal, Symphonic Power metal, 80's metal, Hair Metal, Glam Metal, Visual Kei, Black Metal, Folk/Viking Metal. Classical, Baroque, New age, Pop, etc... A bit of everything. Some specific bands/artists: Abba, Adagio, Antonio Vivaldi, Avril Lavigne, Axenstar, Avantasia, Amadeus, Animetal, Arcangelo Corelli, Arcturus, Ayumi Hamasaki, Baiser, Blackveil Brides, Blind Guardian, Burzum, Celine Dion, Cher, Children of Bodom, The Candy Spooky Theater, The Asteroids Galaxy Tour, Clay Aiken, Dark Funeral, Dark Moor, Dark Throne, David Lee Roth, Dimmu Borgir, Dissection, Dragonforce, Dragonland, Dream Evil, Dokken, Elvenking, Emilie Autumn, Emperor, Ensiferum, Europe, Evergrey, Earthshaker, EZO, Falconer, Galneryus, Hammerfall, Heavenly, Helloween, Hilary Duff, Hizaki Grace Project, Human Fortress, Hurricane, Immortal, In Flames, Iron Maiden, Iron Savior, Jack off Jill, Judas Priest, Judas Iscariot, J.S. Bach, Labyrinth, Lareine, Lion, London After Midnight, Lost Horizon, Loudness, Luca Turilli, Luna Sea, Malice Mizer, Metis Gretel, Motley Crue, Nightwish, Nocturnal Rites, Norther, Orianthi, Ozzy Osbourne, Pagan's Mind, Ratt, Rhapsody, Robyn, Running Wild, Seikima II, Shazna, Sonata Arctica, Stratovarius, Synergy, Thunderstone, Van Halen, Versailles, Wintersun, Xasthur, X-Japan, will add more later.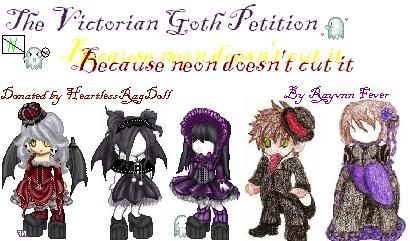 I also love signs and donations :3

Dr Pen0r(age of elegance was my old username)

Tieru

Vote for Mitt Romney in 2012.