what i'm all about.
Killer Zeit and I are friends in real life. <3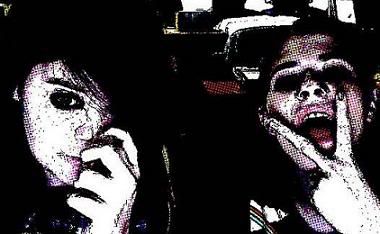 hey.
i'm maddy. i am going on 19 years of age. i am heterosexual. i am 5'7". i have central heterochromia. if you don't know what that is, look it up. i am agnostic, mainly because i don't want religion to be a part of my life that i must continuously defend.

i like going to the movies. i'm a big fan of videogames. i consider myself good at photoshop. i have a job at a movie theater and at GameStop. i love my cats. ******** your dog.

i don't like the beach. due to a shortage of melanin in my skin, i burn very easily. in short; i'm extraordinarily pale. i don't like large crowds. i'm very quiet when meeting someone new. i don't like traveling by plane. i have an innate fear of fog and semi-trucks.

kthxbai.

rofl.
_______________________

Epilogue of a Car Crash
Who the ******** wants to be Asian? Srsly.
Viperson
You. . .you mean that chick flicks are filled with false presentations of men and love?
Son of a b***h.
Katalyst 101
Hero Chick
Hero Chick
KioSuicide
draw on your face with markers : D
hahaha
lol
uhm...what do you mean by that??
...wtf?
Gen-X
UR SO HOMO
It ******** sucks you in. I opened my computer to write a ******** speech, and yet I can't stop using this little piece of s**t forum. mad



i ******** hate myself
i so want to die right now
i can't handle this s**t
******** u
STOP PHAILING AND WRITE YOUR GOD FORSAKEN PAPER!
CyberSyphilis
My systems tell me that you have a high fail rate. Please terminate yourself.
azarel wolfmoon
Flash grenade
If the world is going to end on 2012 (witch it WON'T) it's going to end by nuclear war.
And giant robots. Japan is already ahead in that military development.
I Might Be Insane
Irreversable Underwear
I'm pretty. I guess.
I count as a pretty lesbian.
No you don't.

Sit down fatty.
IAMSAVIOUR
MrSkizzot
i think when someone is speaking you shouldnt make an a** of yourself. Doesnt matter if your the president or someone normal.
Exception in the Gd.
CONDOM RIOT
G2BME-Corleone
CONDOM RIOT
Are you hot?
compared to...
A cow
_______________________
I makes my own avatar art, betch.
I used to have a mini-shop, but I can't keep up with going back and checking up on it. If you have a request for an art piece of your Gaia character, I would gladly do it for some gold. ^-^
----------------------------------------------------------
Lovely
signs that people have made for me x3 <3
Kardiopatheies ~<3 :3