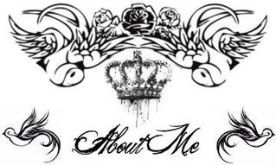 Hey peeps of Gaia! Thx for stumbling into hell... i mean my profile! Well here's some vital things for you to know if we are to get along:


Personal:
< Name: I'll tell you if you give me a good reason why I should. >
< Nicknames: oreo, reil, ninja, ninja oreo, bomber... >
< Age: You can guess >
< Height: 5'2-5'3 ish >
< Gender: All out FEMININE >
< Most Recent Obsession: A new video game I just got a couple days ago >

~<~<~<~<~<~<~<~<~<~<~<~<~<~<~<~<~<~<~<~<~<~<~<~<~<~<~<~<~<~<~<~<~<~<~<~

Favorites:
< Sports: Volleyball and Basketball all the way! >
< Color: Black, orange, red, lime green, red, blue... >
< Animal: hmm... cats for sure... and... foxes! I think they are just so cute! >
< Candy: M & M's >
< Food: Burgers >
< Movie: The Haunting In Connecticut >
< Book: The House Of Night Saga, The Looking Glass Wars >
~<~<~<~<~<~<~<~<~<~<~<~<~<~<~<~<~<~<~<~<~<~<~<~<~<~<~<~<~<~<~<~<~<~<~<~

About:
< Any Hobbies: Sports, video games, reading, hangin with friends... >
< Any Country You'd Like To Visit: UK >
< Any Friends You Still Miss: Yep >
< Anyone Online Who Broke Your Heart: No one yet! >
< Anyone Whose @$$ You Kicked: Of course! If your being a b***h to me, I would pleasantly kick your @$$ >
< Any Celebrity Crush: Yes ! His initials are JB smile >
< Any Crush: No crushes right now >
< Any Obsession/Addiction: Gum, Video games, TV, Reading >
~<~<~<~<~<~<~<~<~<~<~<~<~<~<~<~<~<~<~<~<~<~<~<~<~<~<~<~<~<~<~<~<~<~<~<~


Have You Ever:
<Been Pushed To The Edge: Too many times than I can count... >
<Lost Someone Close To You: I almost did... And I regret that... >
<Felt All Alone In Life: Yes I have actually. Its not a good feeling when everyone around you deserts you and your left all alone. >
<Been Told You're Not Yourself Anymore: Multiple times actually. It was my best friend who told me too. >
~Been Inflicted Pain And Suffering: Both mental and physical. Lets just say my first relationship went horrible and left me changed for the rest of my life. >
<Gone To Jail: Not yet >.<
<Gotten Drunk: Nope. >
<Spilled A Secret: Yep. >
~<~<~<~<~<~<~<~<~<~<~<~<~<~<~<~<~<~<~<~<~<~<~<~<~<~<~<~<~<~<~<~<~<~<~<~

Consider yourself:
< Judgemental: Greatly, to everyone. So watch out wink >
< Annoying: It just wouldn't be right if I wasn't. >
< Boring: Hell no!
< Interesting: I am... very interesting.... but if you can't handle that, then shoo! >
< Goth: I can be If i ever needed or wanted to be >



~<~<~<~<~<~<~<~<~<~<~<~<~<~<~<~<~<~<~<~<~<~<~<~<~<~<~<~<~<~<~<~<~<~<~<~
Well thats about all you need to know for now. PM me for more info, if your interested.


ALSO! Feel free to make me banners, signs, or avi art. I put it all in my journal and preview it on my profile sometimes. I also put your name, so others can see what a great job you did! So go ahead and make me stuff! IF i have time i might make you one in return.
MY DREAM
Total Value: 819,998 Gold
After Exclusions: 817,346 Gold
[Item Information]
Item List:
Satin Hairbow
-have
Triple Demon Horns
-have
Elemental Wings
Pumpkin Spice Mistress High Heels
-have
Matao the Demon Cat
Dashing Gentleman Sardonyx Vest
Infernal Spirit 4th Gen
Black Body Dye