About
- - -
- - - -
- - -
:: Touhou Project ::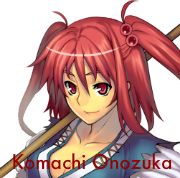 [ Phantasmagoria of Flower View ]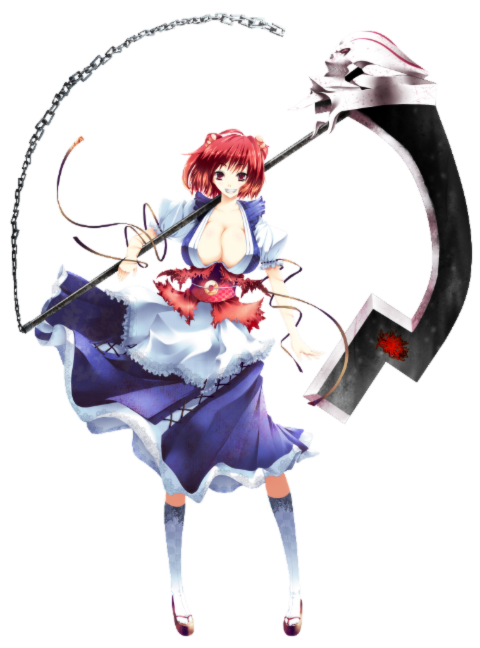 :: Komachi Onozuka ::
Title:
Guide to the Sanzu River
Guide of the Sanzu no Kawa
Edokko God of Death
Guide of Riverside Mist
Sanzu River Ferryman
Species:
Shinigami
Abilities:
Manipulation of Distance
Age:
Unknown (Possibly Immortal)
Residence:
Sanzu River
Location:
Sanzu no Kawa, Buddhist river analogous to the River Styx
Occupation:
Carrier of dead spirits
Theme: Higan Retour ~ Riverside View
Relationships:
Shikieiki Yamaxanadu (Boss)
Tenshi Hinanai (Grudge)
Description:
Red eyes, short pinkish red hair with two ponytails tied by two double hair beads, wears a white dress with a blue vest overtop. Has an obi belt with a large coin tied in the center, and carries a scythe with a wisp-like bending on the end.
:: Spell Cards ::
No. Charge: 「死神の投げ銭」
"Tip of Death"
Owner: Komachi Onozuka
— —
Description: Fires a stream of coins, with each coin individually aimed at the nearest target.
No. EX: 「故人の縁」
"Ties with the Deceased"
Owner: Komachi Onozuka
— —
Description: A large number of coins appear in a closely packed arrangement, and unfolds outward in a spiral pattern.
No. Lv2: 投銭「宵越しの銭」
Throw Away "Money from the Yesterday"
Owner: Komachi Onozuka
— —
Description: Three expanding rings of bullets and coins appear. The middle ring is made of removable bullets.
No. Lv3: 投銭「宵越しの銭」
Throw Away "Money from the Yesterday"
Owner: Komachi Onozuka
— —
Description: Same as her Lv2, except that the bullets are replaced with coins.
No. Boss: 死神「ヒガンルトゥール」
Death "Higan Retour"
Owner: Komachi Onozuka
— —
Description: Boss summon.
Last Word:
"Concealed the Conclusion"
A shinigami who provides passage across the Sanzu River, Komachi has a role akin to that of Charon of Greek mythology. Despite her rather important job, she doesn't always take it seriously and ends up being scolded by her boss, Sikieiki Yamaxanadu. Her name is thought to have originated from the famed beauty Ono no Komachi. Her attacks come in the form of holed coins, in reference to the "price" one needs to pay to cross the Sanzu River. She re-appears as a playable character in Touhou 10.5 and 12.3.
Fanart usually depicts Komachi's boat as a small wooden one that must be pushed with a pole, but Komachi herself refers to her boat as the "Titanic". While this could be hyperbole or a joke and there is nothing concrete to indicate her boat bears any similarity to that infamous ocean liner, it certainly is possible that Komachi is the captain of a fairly large ship, especially considering the volume of work she has to perform. However, according to Perfect Memento her boat is rowed by hand. If it's just Komachi rowing this could severely limit the size of her boat, and she's not known to have any assistants. Regardless of Komachi's own official profile which says the width of the river changes by her mood it is also mentioned in some of the PoFV dialog, especially between Shikieiki and Sakuya, that the width of the river depends at least partly on the actual ghost being ferried; "A river's width is the same as the breadth of the soul's history. How you lived decides the width of the river." This could imply that only one ghost is ever on board at once to avoid conflicting river-widths from ghosts who lived very different lives being on board at the same time, and thus she would not need a large boat.
Fanart also tends to portray Komachi as being very large-chested perhaps based off the remark of her being "Tall and Imposing" in PMiSS. Her art depiction in Scarlet Weather Rhapsody is remarkable for being one of the few characters with a visible bust. For reference, SWR's art has Yukari and Reisen being as flat as Suika.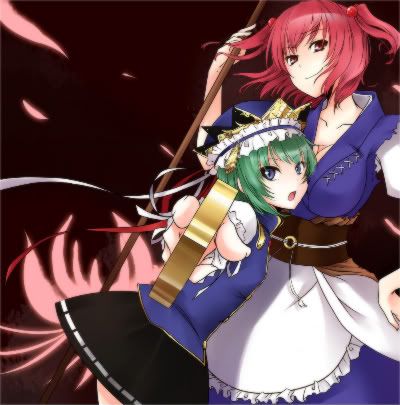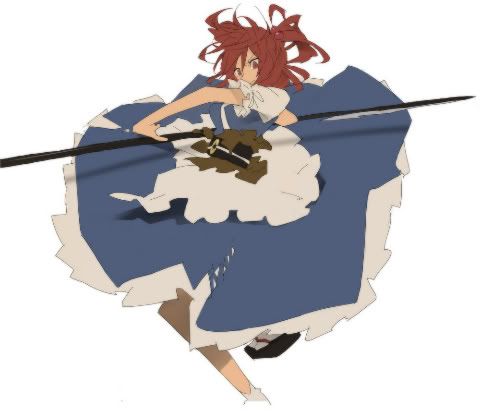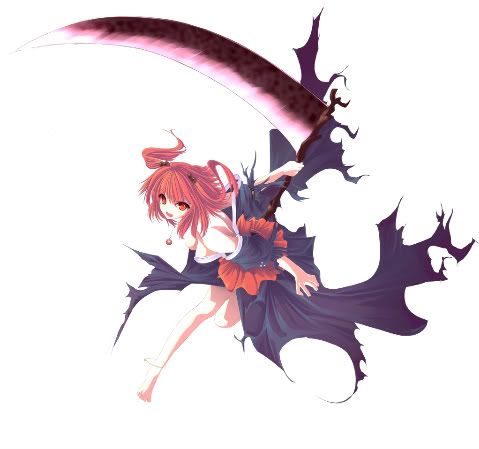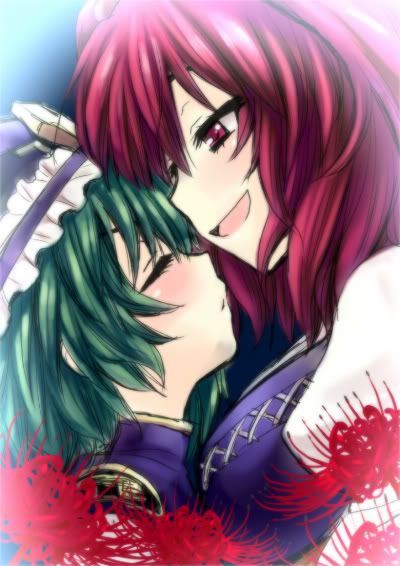 - - -
- - - -
- - -
Friends
Viewing 12 of 48 friends
Multimedia