About
Don't ya just looove my new sharpie?? biggrin




Meow! ^-^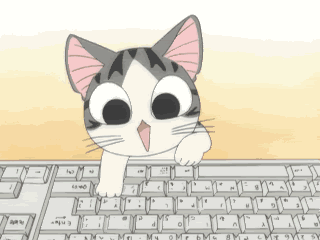 BOY: I love her more than the air i breath.
GIRL: Well I'm always here for you.
BOY: I know.
GIRL: What's wrong?
BOY: I like her so much.
GIRL: Talk to her.
BOY: I don't know. She wont even like me.
GIRL: Don't say that. You're amazing.
BOY: I just want her to know how I feel.
GIRL: Then tell her.
BOY: She wont like me.
GIRL: How do you know that?
BOY: I can just tell.
GIRL: Well just tell her.
BOY: What should I say?
GIRL: Tell her how much you like her.
BOY: I tell her that daily.
GIRL: What do you mean?
BOY: I'm always with her. I love her.
GIRL: I know how you feel. I have the same problem. But he'll never like me.
BOY: Wait. Who do you like?
GIRL: Oh some boy.
BOY: Oh... she won't like me either.
GIRL: She does.
BOY: How do you know?
GIRL: Because, who wouldn't like you?
BOY: You.
GIRL: You're wrong, I love you.
BOY: I love you too.
GIRL: So are you going to talk to her?
BOY: I just did.
A girl and a guy were speeding over 100mph on a motorcycle

Girl: Slow down im scared.
Guy: No this is fun.
Girl: No its not please its too scary.
Guy: Then tell me you love me.
Girl: I love you, now slow down.
Guy: Now give me a big hug.
*She gave him a big hug*
Guy: Can you take off my helmet and put it on yourself? It's bothering me.

In the newspaper the next day a motorcycle had crashed into a building because of brake failure. Two people were on it and only one survived. The truth was that halfway down the road the guy realized that the brakes were broken and he didn't want the girl to know. Instead he had her hug him and tell him he loved her one last time. Then he had her put his helmet on so that she would live even if it meant he would die. If you would do the same for the person you love copy this in your profile.
Girl : Do I ever cross ur mind?
Boy: No.
Girl : Do u like me?
Boy: Not really.
Girl : Do u want me?
Boy: No.
Girl : Would you cry if I left?
Boy: No.
Girl : Would u live 4 me?
Boy: No.
Girl : Would you do anything for me?
Boy: No
Girl : Choose -- me or ur life.
Boy: My life.
Girl runs away in shock and pain and Boy runs after her and says...
The reason u never cross my mind is becuz ur always on my mind.
The reason y I don't like u is becuz I love u.
The reason I don't want u is becuz I need u.
The reason I wouldn't cry if u left is because I would die if u left.
The reason I wouldn't live for u is becuz I would die 4 u.
The reason y I'm not willing to do anything 4 u is becuz I would do everything 4 u.
The reason I chose my life is becuz u R my life
Why do we press harder on a remote control when we know the batteries are almost dead?

Why do banks charge a fee on 'insufficient funds' when they already know there is not enough money?

Why does someone believe you when you say there are four billion stars; but have to check when you say the paint is still wet?

Why doesn't Tarzan have a beard?

Why does Superman stop bullets with his chest, but ducks when you throw a revolver at him?

Why do Kamikaze pilots wear helmets?

Whose idea was it to put an 'S' in the word 'lisp'?

If people evolved from apes, Why are there still apes?

Why is it that no matter what color bubble bath you use the bubbles are always white?

Is there ever a day t h a t m a t t r e s s e s are not on sale?

Why do people constantly return to the refrigerator with hopes that something new to eat will have materialized?

Why do people keep running over a string a dozen times with their vacuum cleaner, then reach down, pick it up and examine it, then put it down to give the vacuum one more chance?

Why is it that no plastic bag will open from the end on your first try?

How do those dead bugs get into those enclosed light fixtures?

When we are in the supermarket and someone rams our ankle with a shopping cart then apologizes for doing so, why do we say, 'It's all right?' Well, it isn't all right, so why don't we say, 'That really hurt, why don't you watch where you're going?'

Why is it that whenever you attempt to catch something that's falling off the table you always manage to knock something else over?

In winter why do we always try to keep the house as warm as it was in summer when we complained about the heat?
~Friends who mean the world to me!~

~Mina~
~Tyler~
~Madi~
~Katie~
~Megan 1 & 2~
~Avery~
~Jess~
~Brandon~
~Rikku~

You mess with my friends, you mess with me!! so don't piss me off. -.-
Comment Me