Ohrion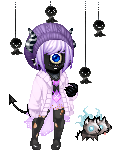 Details
Total Posts

3123

Posts Per Day

0.61

Member Since

12/11/2004
Location

The moon

Occupation

Taco in the making

Gender

Female

Birthday

09/22/1989
---
Interests
About
Hey....well, welcome to my profile. I hope you have a nice stay....or 5 sec peek at it.
A little bit about me...well, I'm a Graduate in Animation and I'm looking for a job in my field..
Oh, and on another note, I am in fact a girl regardless to what gaia says >.< I just like the male Avi better haha
Likes: Turtles, Art, Video games, Food, Soda...
Dislikes: Spaghetti(unless Jess' mom makes it <3), Mean people, Tea, boiling water...
Something also to note about me, I am very blunt and I tend to not Sugarcoat stuff.

Friends
Viewing 12 of 53 friends
Journal
Useless space for now.
I had stuff here, but I killed it >:D
Signature
[img:33ee064161]http://i60.tinypic.com/35bdws7.png[/img:33ee064161]
Olyh olnh brx'oo glh wrpruurz. Ohduq olnh brx'oo olyh iruhyhu.