~ About Me ~
Hi! If you are reading this, then you are as bored as I am!
I'm a happily married stay at home mom. I have four great kids. I love being a mom and it's my full time job right now. My kids range in age from 17 to 2 years old.
~ Izzie at her 2nd Birthday Party ~
My older two kids had been on Gaia for a while before I actually joined. My daughter, wishinIwasthere, got me hooked. Now I am on Gaia more than she is!!
I belong to a GREAT Guild, Over 30 and Gaian. I am very thankful to have found other "older" gaians.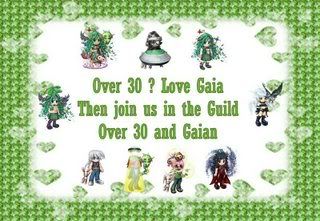 I love to do puzzles, play slots, zOMG and bOOty grab!!!

I also belong to another Awesome Guild ~Gaiaholics Ananymous~
It's a very friendly group with lots of contests, games & even a posting incentive!
I was just promoted to Crew so if you would like to join, just ask and I'll send you an invite. XD