Nyxira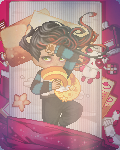 Details
Last Login

01/18/2022 5:27 pm

Member Since

11/19/2005
Gender

Female

Website
---
Interests
Favorite Music/Bands
Hobbies/Interests
About
"It's much stronger to want to protect someone, especially beyond your abilities. But if you are capable and you back out, that is cowardice."
-Poser agent= "You're supposed to be on our side! You were a government man!"
-Race= "You're right, I was. Until they made those shades part of the uniform."
From Jonny Quest (the real adventures).
Um.....I like waffles. Yeah. I don't really have anything else to say.
My art can be found
here
Journal
Kat's Log
Star date...who cares?
Character stories, Thoughts, and pictures that I drew.
Signature
Random art by me.