Nyqol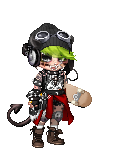 Details
Birthday

05/14
---
Interests
About
Hello, my name is
Nicole
.
I am happily taken by a very wonderful person.
11.4.2016
I am an
Artist
.
I can be extremely moody.
I have worked in a development team for video games for over 6 years.
My life sadly revolves around video games.
I play video games on my down time.
GAMES:
DayZ, PUBG, League of Legends, Duck Game, Final Fantasy, Monster Hunter, etc.
Multimedia
Signature

11.04.16
hi i'm nicole.




art by me