NoctLucisCaelum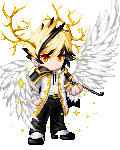 Details
Last Login

11/20/2019 11:16 pm

Member Since

09/20/2009
Gender

Male

Birthday

11/07
---
Interests
Favorite Movies/Anime
Favorite TV Shows
Favorite Reads
Hobbies/Interests
About
Welcome!



I have the dorkiest boyfriend ever.

We have the most chill dog ever, a gay hamster that likes to go on an adventure for a day, and another hamster who likes to explore in his hamsterball.

I like to play video games to that let me collect cool loot or explore. I mainly am playing Final Fantasy XIV (Adamantoise), League of Legends (NA), Destiny on the (XBOX One), Warframe, and Pokemon Ruby.

Other games/interests: Overwatch, Shadown of Mordor, Infamous Second Son, buying unnecessary cosmetics in games, asking my dog if he wants to fite me irl, bugging my hamsters, bugging my two friends Alyssa and Elise, bugging my boyfriend, collecting Yugioh cards as well as Pokemon cards.

I am a musician and enjoy Symphonic Band, Orchestra, African Drumming, Experimental Music, Marching Band, Drum line, Piano, Aural Perception.

I tend to mainly play on my PC so new friends who like playing the main games I like would be neat. smile I'm not the most talkative, but I enjoy the atmosphere of others doing so.




Friends
Viewing 12 of 20 friends