About
interests: anime,manga, martial arts, role playing, writting, fighting, street climbing.
band interests: VNV Nation, Dragonforce, pornopop, linkin park, weird al, musicals, disney songs, KMFDM, Rammstein, Soman, Psyclone Nine, Infected Mushroom, Seether, 3 doors down, 3 days grace, Foo Fighters, Velvet Acid Christ, Meat Loaf, Marilyn Manson, Eighteen Vision, SR-71, Sum-41, Blink 182, The Cruxshadows, Nirvana, CLSM, The Civillian Project, The Verve, The Postal Service, Tool, Soil, Story of the Year, Evergrey, Aqua, The Cardigans, Powerman 5000, XP8, Demon Hunter, Inflames, Smashing Pumpkins, Suicide Cammando, Razed in Black, Dj Rankin, Offspring, Green Day, Rob Zombie, Gorillaz, Garbage, Jack off Jill, Vega Boys, Eiffel 65, Dj Mystic, Michale Jackson, Massive Attack, Mudvayne, Moby, *Nsync, A Perfect Circle, Bad Religion, Alter Bridge, Apoptygma Beserker, Backstreet Boys, Bauhaus, Bon Jovi, Bowling for soup, BT, Crossfade, Daft Punk, Delirium, Dust/ Chemical Brothers, Dj Sammy, Dj Teisto, Dj Liquid, Depech Mode, Dirty Vegas, Evanecense, Fastball, Fatboy Slim, Fuel, Guano Apes, Him, Cradle of Filth, Janes Addiction, Kittie, Korn, System of a Down, Lestat, Lost Prophets, Papa Roach, Proclaimers, Rikki, Slipknot, Smash Mouth, Smile Empty Soul, Taproot, Spineshank, Sprung Monkey, Tatu, The Eels, The Crainberrys, The Polyphonic Spree, Trivium, Unloco, Alien Ant Farm, Vast, Wensday 13, XPQ, Zeromancer, Skinny Puppy, Aphasia, As I Lay Dying, 10 Years, From Autumn To Ashes, Godsmack, Metallica.... ill do more later.
thing to know about me: i am white. i am about 5' 10" and weigh around 140. i am epileptic (it really sucks). i am also an anarchist and if you dont know what that is PM me and we will have a nice long talk about it. i am a capricorn which means i like to argue a lot. my father died when i was 9 or 10 and i have never cried since, ive wanted to but couldnt. i hang out with a variation of people. i am completly pro-choice. i have sort of a split personality, its a long story. the things that i like in girls are those with a sense of humor, and likes to take on challenges. i also like gamers. im not above saying that i am a little shallow but i do not like a girl that is a ******** moron. i like to have conversations with people, and i dont judge those over the internet. in fact i try not to judge people in general, but thats not very possible.i will kill those who hurt/kill animals inhumainly and that is a threat to those who are willing to do it. this also goes for rapists.
people i hate: rapists,anyone who thinks treating animals with cruelty is fun, and egomaniacs.
phrases/ lyrics i like:
"live life with no regrets"
"life is nothing but uneasy circumstances, the only thing certain is death"
"in the land of make-believe, you dont believe in me"
"some days its a good day to die, some days its a good day to have breakfast"
"remember, remember the fifth of november. the gunpowder treason and plot. i can think of nio reason why the gunpowder treason, should ever be forgot"
"its not considered stealing if they are unconcious"
" 'Is this my fate!?' he asked them they answered, condemning him to burn rejected, forsaken, for being ******** born I can't believe that this is still a question that needs an answer a bigot's eyes judging lives based on the sex of who you ********..... this is ignorance"
"you never HAVE to do anything, but its usually a good idea to"
"you will see my life through your eyes, as i see your life through mine"
"we're not punks..... we're anarchists"
"love comes and goes, but you can always buy new furniture"
"the only way to kill a god is to kill its believers"
"everyone, and i mean everyone, deserves their chance for true love"
"will you make memories with me"
"the greatest trick the devil ever pulled on mankind was convincing them that he didn't exist"
"I don't fail. I succeed at finding what doesn't work."
"I don't remember how I got this far, but I just can't seem to make anything go right now."
"you see...when a man loves a women..."
"I am too connected to you to. Slip away, to fade away. Days away I still feel you. Touching me, changing me"
My Family: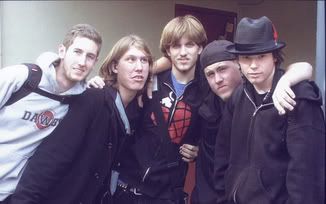 people from left to right:
We start with my friend Miles a.k.a milesun5. he is a great friend and very computer savy. hes the one who got me this picture.
The guy who looks like he is looking for god or something, yeah thats Alex. he is a very..... interesting individual.
Next is my friend Paul. he is probably the most determined of us all. he's had like 20 jobs in the past year, and hes a great guy.
We are now at my friend, Marcus a.k.a deadcow. his head is full of great ideas, and is definatly going somewhere in the future. he just doesnt know where yet.
Last is me.... not much to say.
Friends
Viewing 12 of 49 friends
Multimedia
Signature
" life is nothing but easy and uneasy circumstances, the only thing certain is death."

" sometimes its a good day to die, and sometimes its a good day to have breakfast."
- Thomas from "Smoke Signals"