About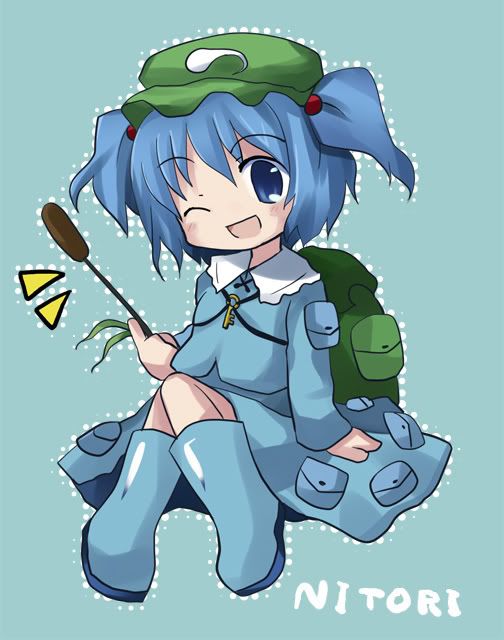 You should drink cucumber flavored beer!
Hey, I'm Nitori. My account story is long.
Here's what happened.
Crystal had registered me an account called Paranoid gurl.
It wasn't very active.
She had given my account to someone else.
He quit, so I got it back.
Wait! Before you unleash your "YOU GAVE OUT UR PASS" or "CRYSTAL IS EVIL" Dinner attacks, realise she made this account for me with an email of hers.
Anywho, Nitori Kawashiro is a boss from touhou 10. I'd do characters I liked more, like flan and remilia, since 6 is my fav, but Nitori wasn't taken. Plus there is already a Patchouli Knowledge.
I'm a mule.
3nodding
My dream avi!(I don't need fluff, but it looks like it was dipped in cucumber BEER <3)
Total Value: 47,021 Gold
[Item Information]
Item List:
Moss Longsleeve Baggy Shirt
Green Umbrella
G-LOL Gangrene Dollie Socks
Clover Fluff Plushie
Benkei's Vest Green
Citrus Snug Balloon Skirt
Green Baseball Cap
Donations
Gothicpunk17 - Dollie socks, Baseball cap, baggy shirt, umbrella, vest!! Wow!!
heart
heart
kur0_y0ru - Heart locket
heart
thanks~
Friends
Viewing 4 of 4 friends
Multimedia
Signature
Cucumber~