About
Im a nice girl once u get to know me.I never act mean and is always my self.And in rl i sing and do crazy things with my friends im just a silly girl when im with my friends.
razz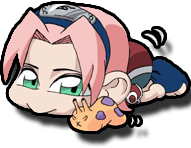 i adopted a chibi!
name:Saskura Haruno
likes:cooking,Naruto
doesn't like:traning with tsunade @_@
owner:SakuraBloome
you can adopt one too!
adopt me!