About
Now, why do I have a thing with Vampires and Pirates? Idk they are cool to me. Jack Sparrow YOU ROCK!!! Edward Cullen YOU SEXY BEAST YOU!!! XDD.
I'm not a goth nor emo. To be honest I'm in to Gothic or Medevial things Idk why but its cool and epic but it doesn't make me gothic...Understand? Dark Colors I'm in to. Bright ones like pink for an example not too much.
Well Im a FF7 and a KH fan I like to play video games Im a pianoist and I draw. I'm not interested of what the future looks like years from now,I'm shy, modest and I'm quiet and tough mixed with emotions.
I hate Rap, R&B, Hip Hop, and Jazz. I'm not into those type of movies that deals with life and decision making (but I HAVE to watch them anyway >,.,&lt
wink
FF7 favorite characters: Vincent Valentine and Cloud Strife (mostly Vincent). So what Vincent is 57 years old! He is a sexy beast and still looks young. Cloud is sexy too
Kingdom Hearts favorite characters: Sora, Roxas, & Riku. All three of them are sexy. Riku is sexy to the CORE!!!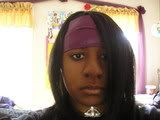 My attempt of Vincent Valentine with the hair X3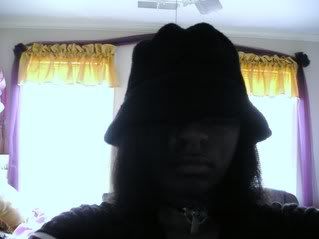 Me and my favorite Hat [I look so emo LOL]
Favorite Movies/Anime
Pirates of the Carribean 2, Yu-Gi-Oh the movie, FF7AC, Sweeney Todd, Twilight, Nightmare Before Christmas, Corpse Bride, Edward Scisorhands, Pokemon, Disney Movies, Sailor Moon, Yu-Gi-Oh, Pokemon, Trinity Blood, Blood+, Vampire Knight, Shugo Chara, Ouran High School Host Club, Death Note, Cowboy Bebop, Junjou Romantica, Soul Eater, The Twlight Saga Movies, Harry Potter,
Favorite TV shows
Monk, Powerpuff Girls, Courage the Cowardly Dog,
Favorite Comics, Books, Manga, etc.
Yu-Gi-Oh, Pokemon: DP, Love Hina, Glory of the Unicorns, I Spy books, Chronicles of Narnia, Unicorns of the Balinor,
Favorite Music/ Bands
techno, almost all sorts of rock, trance, classical music, metal, new age, Opera.
Hobbies/Interest
drawing, video games, taking naps, Making AMV's
Journal
My Prologue
During the days begins anew... My journey as a Gaian still continues... -I stood in this pale form for quite a long time but yet my emotions feel so empty and weak.-
Multimedia
Signature
-In the dark, you left me alone... As I wonder in this painful loneliness, I wonder why... Too many thoughts in my head are like salt being added into the wounds...-
-BTW This is me-
[img:4a7a0803bf]http://i252.photobucket.com/albums/hh38/LunarKittyX/Halloween201200.jpg[/img:4a7a0803bf]