Mythican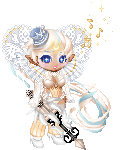 Details
Gender

Female

Birthday

12/25
---
Interests
Favorite Movies/Anime
Favorite TV Shows
Favorite Reads
Favorite Music/Bands
Hobbies/Interests
About
Well, I don't like having a wall of text just about me. (not right now.. maybe tomorrow.)
But in short I am what you may call.. Silly, smart, forgetful, scrutinizing, fun, smart, know-it-all, deep thinker, creative, hypocritical, pessimistically optimistic (makes sense to me) and an avid dreamer.
I love writing, it's sort of my passion in life (aside from taking over the world one day.. To keep it safe.) So, as you may guess I do love to roleplay! I'd say I'm confidently good at it. (by far not the best) But I'm sure I don't disappoint. I generally write at least a paragraph or two, at most six or seven. I'll be making a post in my journal to explain myself as a roleplayer with better detail.
------
What I'm currently questing. Help Me?
Multimedia