Shoutbox

O gawd old 2003-2006 idek profile stuff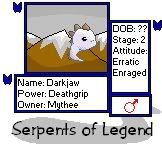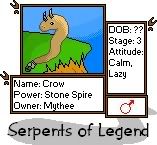 The weird frog pig lizard thing owns j00.
xD Hahah- I dont' have the link to the shop though, I lost it. D:>
Alright, so- the pictures you can see are examples of the avatar the art is of- (usually my favourite) and then, there's a list of the rest of the avatar art relating to that avatar. 3nodding
Just so you know. xd ;

Current avvi:
*need to find stuff*

Latest avvis:



Lemureserus
"Lethal Mureserus"
*Squatting, kittylike
*Chibi with wind
*Evil, funky
*"Be afraid of the dark... I'm in it."
*Looming warrior
*Evil slouch =D
*"Look behind you." <-really good, this one xD

Old avvis:

REALLY old avvis:
Mythee (My OC -> [LINK] ) out of character and contemporary clothing. My first avatar. 3nodding

*Sitting and holding a winged staff.
*Various artists, many Mythees.
---
Mythee in:


Binary: 011011010111100101110100011010000110010101100101
Octal: 155171164150145145
hex: 6D7974686565

Mythee is: @__@ (oh yeah, and roadkill)
---
Fave fish evar!
Notoperus Chitala
Apteronotus albifrons