About
(Yay, hiking trip!)


Ohai~ I'm known as "Mugen no Sora", and to those who are Japanese-illiterate, it means "Infinite Atmosphere". It's a phrase that I believe means a lot, and anyone can relate to it. It's actually from an anime, and if any of you can catch the reference as to what anime, you're my new bestfriend! I do have a few nicknames actually that you can call me by, if you feel weird calling me Mugen or Sora. Just ask if you want to know~ Oh, and a forewarning~ Sorry if my profile is plain and boring. By the way. I DO NOT ADD PEOPLE WHO DON'T TALK TO ME. Random adds = No thanks. =p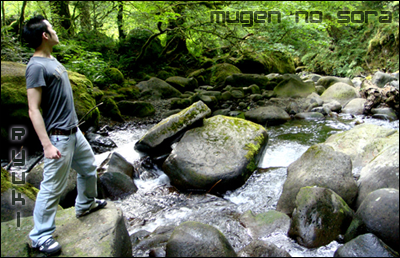 The Basics

:
o1.] One of my biggest passions is photography. I'm both a photographer and a model. Amateur though, sorry to disappoint.
o2.] I'm usually playing video games or watching various anime/Japanese dramas.
o3.] I love music. Pop punk, pop, trance/techno, anime/game/Japanese music are luff. Don't judge me by what I listen to.
o4.] I'm a forever-evolving person. My mind learns more and more from each passing day, and each mistake done.
<3.] Single and straight.

Video of my friend and I tricking: Clickie.




Lastly, my old account name was -[.Roxas.]-. Unfortunately, it got flagged and pretty much banned. Anyway, thanks for visiting my page! Comments and luff? I also have a hangout thread, so feel free to drop by (link in siggy). <3

(A couple of years back.)

Multimedia