About
FOR A SMILING MATURE AUDIENCES ONLY.
blaugh
biggrin
Smile!!
biggrin
blaugh
ALOHA!! Asalamalakum! Welcome to my profile. My good friend Tawni (Holla!!) called me Mr. Sunshine, and I really love it. So, I'm Mr. Sunshine, GOT IT!!!?! Please feel free to add comments ecspecially if we share an interest or two! But please no friend requests unless you've read this and think we'll get along. Contact me if you want.
About me ... I'm full of love and hate, take your pick. I have tried to make my avatar represent me as well as I can. Which has gone okay except I can't afford good clothes in Gaia and I'm a mesomorph. I smile a lot and insist that those around me do too. My wish list is public; so if you have gold weighing you down I will except gifts to lighten your load. I'm only here to help. I am a pretty intellectual type, a wee bit of a neat freak and I really like manners and etiquite (except when I'm trashing rude, abrasive misfit retrards (like Rally rapists!)). I care a lot about eating right, exercise and good grooming and I think YOU SHOULD TOO! I don't like cold weather anymore, at all. I love tanning although I am aware of the dangers. I really can't wait for the summer! A weekend doesn't count unless at least a day of it is spent at the beach. I'll leave it at that for now.
On a random note (and please comment on this if nothing else): Our modern culture prefers women to be hairless from the neck down. To shave their legs, pits and p*$&!c area. And I concour, this is my preference. But help me with this; Why is it that almost all women comply with this hair-free body? With their hair, make-up and nails done with nice manicures, pedicures, not a eyebrow hair out of line and they'e looking freaking HOTT ... BUT! Then it seems that so many have have these super nasty hairy freaking forearms!! I mean c'mon! You work so hard to look so danm good and then "WHAM!" like some gross hippy or something else really hairy. It's like a flashback from Harry and the Hendersons or Teen Wolf! They're like Gorilla Arms! Razors work there too ladies! Oh, and what the heck is up with the hairy toes!?! The common responce has been, "hair grows back thicker and darker", well, NO, IT DOESN'T! Did that logic stop you from shaving your legs or armpits? No, it didn't, did it? Don't claim to have the cure for balding as an excuse for looking like a cave woman. Don't even get me started on different finger and toe nail polish or bras and panties that don't match, for that matter!!
Thanks for stopping by this travisty of a profile. I wish you all the best in love and life. I hope you're successful in your pursuits!! Now, smile and tell someone that you love them!!
LIFE IS A GARDEN; DIG IT!! YA DUDE!
AH-KOON-AH-MA-TADA!!!
-MR.SUNSHINE!!
"Ah, women. They make the highs higher and the lows more frequent. The true man wants two things: danger and play. For that reason he wants woman, as the most dangerous plaything. "
-Friedrich Nietzsche
"Man is violent, and the ideal of non-violence is only an immature approach to violence. What is important is to face the violence, undxerstandit and go beyond it, and not inven an ideal called non-violence which has no basis in reality whatsoever."
-J. Krishnamurti
"Even bitches carry guns"
-Bone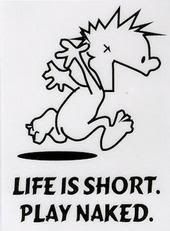 Multimedia
Signature
Some people's minds are so open that their brain falls out!