My life - in a nutshell
Hmmm....So this is where I tell you about myself. Yes? No? No...Well then I guess you should leave. Ha! No no, I'm only kidding, come back, kick your feet up. Relax a little, you're much too uptight. Lets see what kind of skeletons I can rustle up for you.

Sorry, no skeletons in the closet, at least not yet. Speaking of the closet, you should know that I am no longer in one. Confused? Then let me be blunt. I'm gay. I'm also a tease, and a flirt. It's just something I do. It almost never means I like you, so don't get all googly-eyed, school-girl stalker on me just yet. Usually if I like you, I'm shy around you. A little backwards I know, but thats just how I roll.

But now that that's out of the way, (and you're still here) I'll let you know that I've been on this silly excuse of a planet for seventeen years. Yes, I know I spelled out seventeen. Why do that when I could much more easily just push the "1" and "7" keys? Because I don't like the way numbers look when they're typed out. Yes, its silly, but you're opinion doesn't run my life.

Currently, I reside in possibly the most conservative state in the country - South Carolina. No, my accent isn't terrible, but it's enough to place me from the South. Originally, I'm from Florida. I miss it sometimes - the constant warmth, the sunshine, those stupid palm trees everywhere, the beaches - but usually I'm glad I moved. There are these people here who kind of mean the world to me. My friends, and my family (sometimes the line between the two gets a little blurry <3) are really the only reason I don't lay in bed all day, everyday. Actually, that doesn't imply that I'm single. My heart belongs to Staci. She's the greatest thing in my life, and I couldn't ever ask for anything better. I love you, baby.

You should also know that I absolutely adore music. Playing it, listening to it, writing it, marching to it - you name it, I do it. I play saxophone in the marching band at my high school. Alto my first year, tenor the next two, beri next year if I don't make drum major. I also play keyboard/ piano, sing, and my "wife" is teaching me cello (slowly cause those string instruments kill me). I can play a little guitar too, but not enough to consider it really playing. Poetry is important too. I love to write, although I must admit it's usually not very good. That doesn't stop me from trying though. Kinda like my dancing.

I like to roleplay, it stretches my imagination, but lately there aren't very many that can really keep my attention. People post three sentences and are done, where I can post three paragraphs and still have more to say. Sometimes it's repetitive, but I try hard for it not to be. I draw sometimes. Less now than in the past, but I still do it for kicks every now and again.

Some random things that I enjoy? ~Rainbows ~Things that sparkle ~Purple ~Electric blue ~Cuddling ~Holding hands ~Roller Coasters ~Scary movies ~Thunderstorms ~Animals ~Sour Patch Kids ~Raspberry Tea ~Mint Chocolate Chip Ice Cream ~Kisses in the Rain.
Obviously I'm kind of sentimental. Overly protective, jealous, all around a pretty bad combination of traits, but I'm damn sure loyal.

Thats all I can really think of off the top of my head, and I'm sure it was enough to satisfy that aching curiosity of yours. But, if it wasn't, feel free to talk to me. I promise not to bite....but then again, promises were made to be broken. ;D

WAIT!!!! Before you go, curious to know what I look like?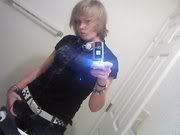 Here you go. (:
I will, quite possibly, add more random pictures of me being stupid as time passes.