About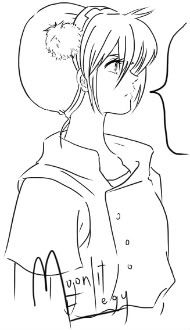 Heyy there. My name's Kelly. Thanks for stopping by.
I'm MoonlitElegy, previously known as MoonlightDreamMiko74 - but that got too long and annoying to type. Please excuse my indolence.
I've been here since August 2OO5, so I'm a proud 5 year veteran.
I consider myself honest, talkative, and independent. I'm a night owl, and I teach piano. I'm currently a senior in Highschool, and my life's busy trying to balance out academics with my social life and the odd commissions I get here on Gaia. I'm usually sleep-deprived and therefore a bit grumpy and sardonic at times, so please bear with me.
That said, if you catch me on a day after I've fully rested, I'm optimistic and open-minded. Generally, I'm a laid-back person. I'm one who loves typing out smileys and whatnot after every sentence. I also respect those that can balance both humor and literacy. lyke rofl, no.
I draw a bit of B&W art(
my DA
), but I love avi art. Hint hint. : )
I love meeting new people. . . though I can do without meeting rude asinines. If there's one thing I can't tolerate, it's probably immature, pompous, insensitive, selfish asshats. That, and spiders.
Ah; I don't accept random friend requests, btw. So if you're one of those people I randomly chat with for half an hour on one of gaia's mini games, sorry, lolol. I've had way too many friendly convos over the years to remember yours specifically. That's not to say that people can't friend me; especially if they're dubbed super awesome in my mind and become an exception among many.
Ooh. My brain's out of things to talk about - if you've made it this far, extra brownie points for you! Thanks and ....
Send me a random comment? :'D

Journal
E l e g a n c e
Feel free to look around, but remember, everything is copyrighted.
Multimedia
Signature
[imgleft:27ffb4cc2e]http://i139.photobucket.com/albums/q281/MoonlightDreamMiko74/CrystaChan-2.jpg[/imgleft:27ffb4cc2e]


A wild Kakashi appeared.


[b:27ffb4cc2e]DeviantArt [/b:27ffb4cc2e]
I'm a thread hopper - so [i:27ffb4cc2e]QUOTE/PM[/i:27ffb4cc2e] me if interested.


Kakashi vanished.



[/align:27ffb4cc2e][/size:27ffb4cc2e]