About
Welcome ladies and gentlemen.
> DevianArt <
I'm an artist, I'll occasionally draw.
I'm not particularly good at anything, but I do like to learn about everything.
I'm an elementary school teacher.
Art for me <3
Thanks Dragon, by qweeeeeertyuiop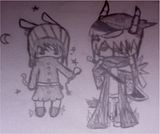 Thank you iTie-chan
The purpose of life... is:
To survive, that is, to live as long as possible, including pursuit of indefinite lifespan (the closest thing to immortality that is theoretically possible) through scientific means.
To evolve, to replicate, "the 'dream' of every cell is to become two cells", since DNA replication has a mutation rate, this results in evolution.
To seek and find happiness.
To seek wisdom and knowledge and to tame the mind, as to avoid suffering caused by ignorance, to end suffering, to create equality, to challenge oppression, to distribute wealth, be generous, to contribute to a community, to help others, be creative and have fun.
And to be a true authentic human being and accept and forgive human flaws.