Miss Misandrist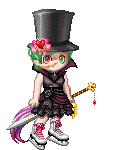 Details
Last Login

03/02/2019 4:44 am

Total Posts

5903

Posts Per Day

1.48
Location

Bellevue, Nebraska

Birthday

10/27/1990
---
Interests
Favorite Movies/Anime
Favorite TV Shows
Favorite Reads
About
"The feminist agenda is not about equal rights for women. It is about a socialist, anti-family political movement that encourages women to leave their husbands, kill their children, practice witchcraft, destroy capitalism, and become lesbians."

"Feminists make men ashamed of their masculinity. They use bogus studies and bad science to convince men that they are inherently violent, evil, and physically and mentally inferior to women. Sound familiar? It's the same tactics the Nazi party used to convince people that the Aryans were superior and that Jews were inferior. Feminism is modern Nazism, and the West has become nothing short of one giant female supremacist society where men are considered less than human."

hi i'm 21 and i'm the classiest mofo you'll ever meet
i am a man-hating feminist
i like making frandz.
i also like to draw and play video games
and listen to music
and drive
and sleep
i'm mostly a loser, and i have no self-esteem.