Miss Kiiro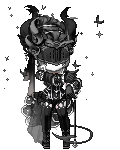 Details
---
Interests
Favorite TV Shows
Favorite Music/Bands
About
You can call me
Kiiro
I am currently 27 years young as of May 26th;
I have a 10 years young son.
I LOVE Fallout with a passion.
I am a college graduate.
I am
married
to the love of my life.
I also have two cats, a shiba inu, a coon hound/shepherd mix and a dwarf hotot bunny. <3
Also, am now a proud home owner.
You could say life is going pretty swell. =)
If you have a question, feel free to ask me.
I
kind of
know how to code the old style profiles.
But I am open to helping you if you have questions about coding profiles.
If you wish to take a peak at my art collection, you can find it here;
art
.
Have a good day!
heart
Gaia online mentionables;
Stingie
:"But then, I see that we are partners on Gaia. Tackling everything like a new adventure. Like a leader and a side-kick. That's how much I love you, I'd even be the side-kick."
Cori, a.k.a Stingie
, is one of the wittiest, most generous, caring, considerate, logical, understanding, and most reliable best friend on Gaia Online that there ever is, or ever will be. <3 No. She is more than a best friend. Cori is my partner in crime, in an equal manner. We have arguments and wage wars on how much we are going to help one another, because we would push and do what we have to or want to, if we knew it would bring one another happiness. <3 She is an amazing artist, not only with the pencils and pens, but with her words. Touching me dearly, I will forever cherish her as my beloved equal. I know that this small paragraph does not do her nearly enough credit as she deserve, but for now, this is what I can muster up. I love ya Cori, you're my hero. <3
Requiem for Hope; a.k.a. My Reqi <3
Reqi, I may not have known you for very long. I may not understand you or what you may be going through.. But you're being here for me. Listening to me vent about life's unsatisfactions.. And offering the inspiration that I need to get through the day. I hope you become a really good friend of mine, because so far, you strike me as a great person. And I hope for that to rub off on me. <3
xMikeh:
" I don't care about what people think. You, I don't know. You stand out. I like you. You put yourself out to try and make friends. And you aren't doing it to ask me to borrow something or something along those lines."
Journal
I'll become what you became to me.
Multimedia