mini_faerie_luver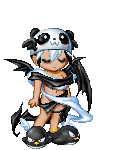 Details
Last Login

04/18/2014 2:47 pm

Total Posts

68185

Posts Per Day

13.33

Member Since

07/12/2006
Occupation

Quester

Gender

Female

Birthday

06/25/1992
---
Interests
About
emotion_kirakira
Boo, I'll make this quick because you already know and everyone already knows how much I adore you. But Imma say some stuff anyway. Everyone that is reading this, know that you're on the profile of one of the most wonderful people you will ever meet. Afton is a super qt sweetie pie that is so open and kind to people. So yeah, if you haven't talked to her but are stalking her profile, definitely get to know her. She's impossible not to love.
emotion_bigheart
I know I do. Don't kill me, kay Boo? <3 I love you! - Melly.
P.S. READ ON BEAUTIFUL PEOPLE.
emotion_kirakira

I only donate to people who I feel worthy of my hard earned gold. If we aren't good friends, don't expect anything from me.
Who are you, to judge me? Maybe you should look at yourself before you start to judge others. I'm not perfect and I don't try to be. You're definitely not perfect either. So STFU.
Used To Be: Faerie_Luver
Name : Afton - call me Faerie.
Join Date: June 9, 2005
Age : June 25, 1992. 21.
Sex : Female
sexuality : Straight
Occupation: Cosmetologist
Me.

Friends
Viewing 12 of 119 friends
Journal
Panda Hat Progress
Multimedia
Signature








Moody Heart Cloud
0/250k

Back on Gaia? Possible.

Casinos Veteran
Exchanger



Glowing?
bump here