Miles To Go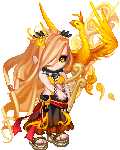 Details
Last Login

11/16/2019 7:51 pm

Total Posts

34032

Member Since

09/27/2005
Location

Ohio

Occupation

College Student

Website
---
Interests
About
"The woods are lovely, dark and deep,
But I have promises to keep,
and miles to go before I sleep~"
"To err is the human way." We are all men, we cannot choose to be gods.
Hmmhmm...
My name is Reesa and I'm just trying to make a life in this hectic world we live in. I'm in a committed relationship with who I believe is my soulmate. I have strong opinions about things and I love a good debate, but hate closed minded people. I'm a Senior in college majoring in Accounting, after realizing teaching was not the path for me. In fact I've changed a lot over the years, and have learned a lot about myself along the way.
Art is my passion in life, I love to draw and create things.
House location:
8 Barton 001207, #58
My current Gaia name is based on a Robert Frost poem
"Stopping by Woods on a Snowy Evening".
My profile was made by me. ^_^
Friends
Viewing 12 of 203 friends
Multimedia