About
Ok my name is Tihani Correa (my sisters call me Miko). I am 5'10", with purple mid-back-length hair, slim figure. I am wiccan, I like Music (hard rock, punk, underground, metal, techno, new age and a few songs that don't fall into any perticualr categories), I Shop at Hot topic (fav store), Waiting for my someone to teach me guitar..procrastinators.. my look, i love my boots,
*************************************

My Rp Character as of now:
Character Name: Myka Venifica
Age: 19
Gender: F
Race: elf/ -unknown-
Natural Ability: Scrying. She is able to look into any source of water and look for people/ places or things. The farther she looks the more energy she uses. She can also use a special scying mirror she created, a very ornate sliver hand-size mirror, created by her mother, who was and elf. Although using it, she can not see as far as she can using water.
Element:


Element attacks: blind, illuminate, and Goddess Beam (she can only use this one in extreme danger, usually close to death)
Weapons: She weild a long sword. also crafted by elf hands, which glows a faint blue at all times. It has great magic and arcane sealed within it, alowing her to excel at melee combat, something elves aren't really known for. And of course she has an ornate bow, with arroes that she infuses with her power, althugh only enough to make them slightly better (say perhaps to hit a target a little better). She also has a black horse, named Nox.
Bio: She grew up in a small forest city perched atop a mountain in a large lake located in the center. Her mother and father were very loving and and they had a nice life style, they were of minor noble status, and the others in the city were kind as well. The overall population was elvish, but there were many other races that lived here too. The only way to the city was a bridge that connected to the pass that lead to the lake, so she grew up away from most dangers until she was about 13. At that time the city was appointing a new leader, who no one liked. Her parents decided to leave, prefering peace over power, and they movde to a small village at the base of the mountain. Here many differnt people came and went, from all over the map. Her parent put up a goods store and they made it just fine. Myka had made friends with the local wizrd and his wife, a midwife, and began to learn a variety of magic. She learned birthing rituals from the Misses, and the basicsc of magic from the old wizard. They became like her gradparents and took her in one day when her parents left to travel to the other side of the world, for which reason her parents did not say. She was a bit confused, but found a mirror and a note, telling her how to use it from her mother, and a very intricate sword, left by her father. She evetually took up the path of light and studied hard, whilst developing her scrying skill, looking for her parents. The wizard told her one day that she should go out and see the worl, develop her skills and experience life. So now she stands ready, her basic necsaties packed and her preizde possesion stowed away carefully, the sword swinging at her side, a new bow on her back and a beautiful black horse the couple had bought her.
Appearance: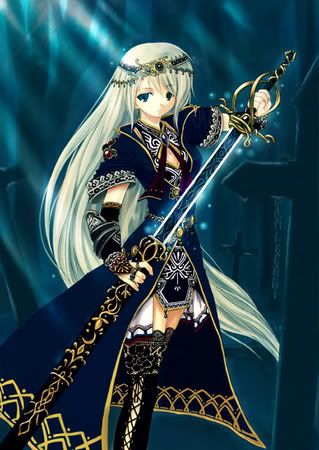 CHECK OUT MORE OF MY RP CHARACTERS! WHICH WILL BE POSTED IM MY JOURNAL!
Friends
Viewing 12 of 29 friends
Journal
Arcanum Sanctum
The Inner Sanctum is Withering...
Its just about me, myself, my randomness and thingd i think people should know. I'm cruiz, sowhateverz
Multimedia