About
Professional wrestler, born Michael Foley, on June 7, 1965, in Bloomington, Indiana. The Foley family moved to Setauket on Long Island when Mick was still a young boy. In high school, he became a dedicated fan of professional wrestling and its incredible antics. He even made a home video of himself performing various stunts in the outlandish persona of ?Dude Love.? Foley caught the attention of trainer Dominic DeNucci and began training with him in 1983.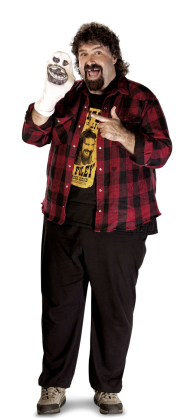 Since he made his professional debut in 1986, Foley?s apparent worship of physical pain has allowed him to fulfill his lifelong dream and become one of the most popular wrestlers in the World Wrestling Federation (WWF). The six foot two, nearly 300 pound Foley has three alter egos?Cactus Jack, Dude Love, and Mankind?and has participated in several of the notoriously sensational WWF?s more extreme spectacles. In 1999, Foley fought a brutal match with a separated shoulder; that same year he was body slammed fifteen feet from the top of a cage onto a bed of thumbtacks. Incidents like these have contributed to the negative image of pro-wrestling as needlessly violent and ultimately dangerous to the competitors?an image tragically reinforced by the death in May 1999 of the WWF?s Owen Hart in a fall from the rafters of a Kansas City arena.
Foley starred in the 1999 documentary film Beyond the Mat, about the world of professional wrestling. In December 1999, his newly-released autobiography, Have a Nice Day!, reached the top of the New York Times non-fiction best-seller list. He and his wife Collette have two children, Dewey and Noelle.
Behind The Character.

Well my name is Jesse, I have three siblings.... I am 13.
I am Mexican, but I hate racist ******** I can be racist at times .-.
I live in Utah which is a hot as ******** place. I used to live
in Oregon. I am on Gaia some part of the time. And I love
WWE And I roleplay as Mick Foley in a guild called TNWF.
My Best Friends
. (
)
Andrew, Bruce,Chandler, Giancarlo, Matthew, Brody.
Friends
Viewing 12 of 112 friends
Signature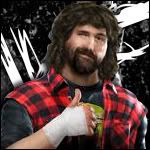 BANG BANG ********]