About
I ain't gonna gush abou' things I like.
I ain't gonna drop down on my knees and proclaim love ta nobody, an I ain't gonna play beat aroun' the bush with ya till ya break down an tell me I'm awful cute inside.
That said, Hi there.
So you're wonderin, what the ******** am I doin here? Well, truth be told, I don' really know. Bein' as I ain't here ta make friends it seems kinda silly, don' it? Well, ain't that a damned freakin shame. Ain't been so good at makin friends, not for a long time.
Edit: Okay okay, So I said I wasn' gonna gush abou' stuff I like, but a certain person told me my profile was "unfriendly and kind of sparse" So here we have some basic info:
Eye color:
Husky Blue
Hair Color:
Shiny silky black
Face shape:
Been told I look like the love child between Miyaki and Gackt. What the ********?
Skin:
Pale. Yeah, don't go outside durring the day.
Body type:
Lean, lightly muscled. Kinda like Miyavi, said by the same person who talked about the love child bit. Again I say What the ********?
Clothing preferences:
Baggy clothes. Only pair of shoes I own are my dark red leather boots. I like mesh tops, and sleeveless tops. Usually I wear a sleeveless over my mesh. Yeah.
Special features:
Again I beg you, What the ********? Two barbell piercings in my left eyebrow. Silver, thank you very much. Lots of scars across my back and ribs. Yup. They're itchy and stiff.
Favorite things:
Wontons, cheesecake, alcohol, boys, melon, gummy worms, black licorice, mesh, cat collars, clubs, boys, thigh high boots, eye liner, red nail polish, black nail polish, piercings, belly buttons, boys.

Things I hate:
Needles, clowns, moths, (what? They're ******** freaky when they come at you in the dark) pastels, zombies, being cold, clams, and beets.

The kinky things:
Biting, scratching, welts, love bites, real bites, hickies, bruises, rough stuff, red marks. All that good chick fighting stuff.
Things I hate?
Having my feet tickled. Having my ears played with (you don't get to know why.) being bitten on my sides. It feels creepy. Just don't do it.
Now [******** off.
heart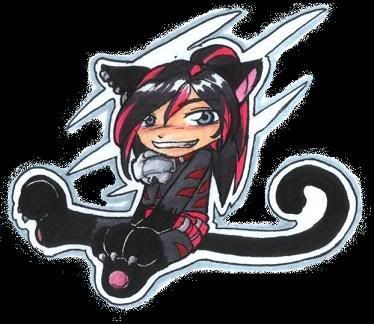 ...Yeah..it's cute, I guess. *secretly pets it*
Aah, and I hate it when people overlook me for pretty new shiny s**t. The ******** is their problem anyways? You don't tell someone you can do something, start it, then just forget about it because you got something newer and suddenly so much more interesting going on. ******** you. You made a commitment, go fullfill it. Don't give me bullshit about not being able to think of anything. Lying sons of bitches. What kind of people are you? Go get your a** up, get in there, and take care of the s**t you said you would take care of. I don't -have- to hang around. ********. I can waltz my happy little a** somewhere else if you don't want to do it.
Pricks.
Friends
Viewing 12 of 66 friends
Journal
Sub-Human Scrawl
Trial and Error
What? It's a story. Fanfic style. What else do ya want?
Signature

♥


I'm an animal standing. A jackal among lambs.


Hunt me like I'm prey.




Love me like only you can.


♥