Methamphetapunk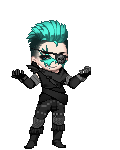 Details
Gender

Male

Birthday

08/07
---
Interests
Favorite Movies/Anime
Favorite TV Shows
Favorite Reads
Favorite Music/Bands
About
Yo. My name is Ky.
I am male.
07th August 1993.

I work in retail for the time being. I do not recommend.

I draw a lot as a hobby, although I don't consider any of my stuff to be all that good, though some might disagree. However I am aiming to get better, so if you see my art floating around, please feel free to send tips/pointers my way.

I also roleplay and used to be very active on Gaia 6-7 years ago.

That's about it. So how 'bout it? Lets talk.

Journal
Kyrii's Scrap Book
Scrap scrap scrap!
Multimedia
Signature