About
I don't feel obligated to show any pictures of myself
I'm 24 and about 6ft.

I am clinically insane.
I've been dignosed with PTSD for 3-ish years now. Though despite my crazy exterior, I am also a gentleman. And I treat everyone with respect as I expect respect in return. I really am a loving, kind guy.
Just don't cross me.
I'm married to the most wonderful, adorable, beautiful and lovely woman in the whole universe and parallel dimension. Her name is Clarissa. We've been married for a year now and she's pregnant with my two beautiful children. Twins, and I can't wait to become a daddy.
I used to think I was gay, but love shouldn't be based on gender. But I'm not forgetting what I've done back then, but also, I shouldn't label myself falsely..
I play the piano
and
cook.
I'm a chocoholic.
I love rock n' roll, espically 70's and 80's. The new rock out these days are also enjoyable to me. Also hardcore for dubstep! As well as gabber and speedcore. And my all time favorite band is System of a Down. Serj Takain alone is pretty good, too.


I am a mego, HUGE horror fan. Movies, music, etc. The bloodier the better. Slasher and psychological thrillers are my favorite.
I don't watch much television, but I love Adult Swim. And the Syfy channel. Comedy Central is also good on certain times.
I love horror, fantasy and science fiction video games. Silent Hill series being my ultimate favorite.
Anything else I suppose you can PM me. I'm always up for a conversation.



Donators! I've had some in the past when I was fully on 4 years ago, but I've forgotten. To those I've forgotten that time ago, I'm sorry.
TalentedTori - 25,318
Friends
Viewing 5 of 5 friends
Multimedia
Signature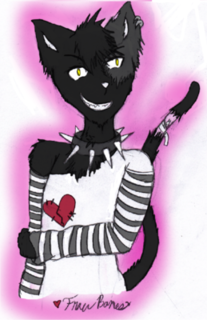 Drawn by: Frau Bones! Thanks, dolly!
.