About


My beautiful little girl! <3




THESE PEOPLE WILL ALWAYS HAVE MY HEART
- ZOMBiiFiCATiON
- Mysterious Belonging
- lVleIody
- Skarekrow
- Lien
- Yokies
- Kemistree
- Cosmic Glitter
- Lithium Filth
- DarkestPappreka

I ******** love you girls, forever and ever. <3





Visit my Quest Thread? It gets lonely in there!








My name is Batty. People call me Batterz, though. I used to be Miss Bat Cravat, but came back with a name change <3



I'm 28 years old, gonna be 29 on December 21st.




I'm mother to a beautiful baby bat named Seraphina Morrigan. I LOVE MAKING FRIENDS. I do, really! I'm super friendly, and I like making friends from all over the place.


I ******** LOVE HALLOWEEN. ALL HALLOWEEN. ESPECIALLY BATS, THOUGH. Everything I own is Halloween related, from panties, to drinking cups, bedding, and decor. SO MUCH DECOR. My entire house is decked out all year round, and its really hard for me to find an outfit that DOESN'T have something Halloween or Batty on them.


Anything else? Feel free to ask! <3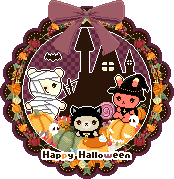 Journal
black BIRDCAGE``
I won't be posting here often. xD; And when I do, it'll be of quests, avatars, and art.
Signature
ART BY: Asalow
Questing ALL Bat Items!
Collecting now: Witchly, Imperious, Gloomy, Booming, Wilted and Miserable items!
join my batty discord!