About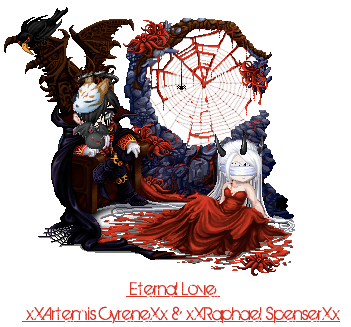 Hey there~
My name is Heather, I am 19 years old. I'm 160 lbs, and 5'6 and 3/4", I have grey/ blue eyes, and at the moment I have short black hair with a large bleached streak in my eyes . I am an artist. I draw, sculpt, paint and even do some 3D animation if I have the time. I am also a writer, I write poems, short fantasy stories and at the moment I am working on a novel.
I graduated from high school on June 8th 2007, and I will be enrolling in Manchester Community College thios summer and will be working towards a pshychology degree and an art degree so I can be an art therapist for troubled and abused children. At one point in my life I wanted nothing more than to be a video game designer , but during my senior year found out that stress physically makes me ill, and feel that I can no longer reach my dreams of working with Square Enix… (wish it were still Square soft)
During my free time, I love to read, fantasy and vampire novels, sketch, play RPG video games, work on my novel, dye my hair, go hiking and work in the garden.
I am deeply in love with the man of my dreams and the one and only guy that can tame my heart and make me whole. He and I are soul mates and if someone so much as says one wrong word to him, I will rip out there heart and feed it to them. He is my dream come true, and if he is unhappy then I am unhappy...and you won't want to be around me when I'm unhappy...
I am a devout Wiccan practitioner, that is all I have to say on that.
I love making new friends, though I can be really shy and it takes me little bit to warm up to you, but once I get to know you, you can't shut me up. I love random pm's and comments. If you want to know anything else about me, you can go ahead and contact me, I'm an open book.
Hope you guys contact me, love you all
xXArtemis CyreneXx aka Dougs Girl, Heather
Journal
Chibi_Manny's Daily Blah
Read this $#!@ please!!
Random thoughts or what I did today...
Multimedia
Signature
heart
Never mess with a Sicilian when DEATH is on the line!
heart