About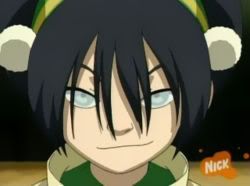 Hey, Toph here,
In case you don't know me, well you should know *grumbles* dunderheads......, I'm twelve years old and if you didn't notice,*waves hand in front of face*, I'm blind. Plus, I happen to be traveling withe Avatar, my pal Aang, and his earth bending teacher. Also traveling with the sugar queen, Katara, and her annoying brother Sokka.
If you wanna know my whole story, here it is.
My full name is Toph Bei Fong, and I was born blind, and born into the rich Bei Fong family. Normally, people would think that being the only child of a rich family would be totally awesome.......well they are WRONG. My parents were very over-protective with me. Having guards with me almost 24/7, and hiding my from the entire world. Everybody thinking that the Bei Fong family had no children.......But luckily, for me, I would be able to sneak out and go to Earth Rumble becoming the Champion under my nickname, the Blind Bandit. I had learned earthbending, from some Badgermoles I met, from the many times I had ran away from home, by imitating their movements.
I had met Aang, Katara, and Sokka, one day at Earth Rumble. He had tried to talk to me, saying he wanted from me to teach him earth bending, or something like that, but I was more into the fight. But as I attacked he had pushed me off the ring, causing him to be the somewhat Champion. I was pretty pissed off at him that day, but what really surprised me, was when he some how found me, and still tried to convince me. But I scared them off by calling the guards. He then actually came to my house, invited in as a special guest, and stayed there for the night.
We both went outside, talking, I like him a bit more there, but that's when we both got captured by Xin Fu and some of the other contestants. We were then rescued by Katara and Sokka, and that's also when I proved that I wasn't a helpless blind girl to my dad, by beating the crap out of all the contestants and Xin Fu, once again. Once back home, my parents went over what happened and decided to be even more over protective than they were before. But I had enough with that, I secrectly ran away with Aang, Katara and Sokka, to become his earth bending teacher.
Which caused my dad to send Xin Fu and my wanna-be earth bending instructor, Master Yu, after me. They eventually got me, but while they were bringing me back, in a cage, I had discovered metal bending, *smirks*. Yeah I'm that awesome. So yeah, we continued our journey yadda-yadda, I almost died, yadda-yadda. Then we finally ended the war as Aang defeated Ozai. Now everything is pretty boring and I somehow miss the war.......at least the action.......That's mostly it, I guess thanks for listening.
Anywaaaaays, Toph Out!