About
(An Gambino, you better take back what you said about us grombies... I'm smart and I EAT HATS.. not brains >>... so now I shall make my way to your hat closet and eat your hats
razz
)
XD yes I am weird.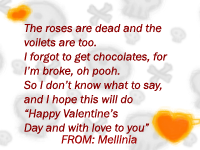 7/7/07 Highlight my qoute :3
(p.s. this day o.o sucked.. for me that is..)
6/7/07- The little saying in my signature, is just abit of a joke. So it just a long story short; I've had people mistake me as a cute guy pixel. So in the end they say "OMG you are so bishie"
So out of the weirdness of my mind (or whatever the culprit of my thinking is..)
TA-DA
*---------------------------------------*
You want to know about me, then chat with me.. Otherwise you'll never find out.
Oh I figured what I can use this more for:



Friends
Viewing 12 of 59 friends
Journal
Grim Reapers Keep
Basically what it says.
Multimedia
Signature
[b:f35d1beb70]Updating fanlist, also still questing for arts :3~![/b:f35d1beb70]
[img:f35d1beb70]http://img.photobucket.com/albums/v21/Kittyintheraiyn/BerryPie2copy-2.png[/img:f35d1beb70]
[img:f35d1beb70]http://img.photobucket.com/albums/v622/Mellinia/bannersigcopy.jpg[/img:f35d1beb70] [/align:f35d1beb70]