About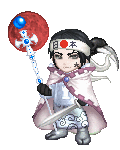 My heroic side...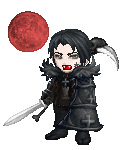 My villainous side...
"When you are needless, when you are pointless. A world shuns you out, but say they need a savior, they call to you out. I look upon this person, broken and disappeared, I shake my head in anger, you can burn in Hell." -JMM
"I've seen the true face of this world. It's gutters overrun with the blood and corpses of its fornication and murder. And when the blood scabs over and the world drowns in its own filth, the politicians and whores will all look up and scream 'save us'. And I'll whisper, 'No'." -Rorshak
"I looked upon each face in need, but there was nothing there indeed. Upon each face lay a mask, upon each mask lay a task, set forth by someone who wore a mask." -JMM
"I've walked the ends of this Earth and gazed upon everything it has to offer. But in my time, I've never come across something as beautiful as you." -JMM
"Never take a life unless you are willing to be killed as well." -Lelouche Vii Britania
"I will never be... Just a dream, Cloud." -Sephiroth
"What is the point in continuing, when you are nothing to 'her'? My point is to find death, sooner or later." -JMM
"Bleed for your friends, and you will never die. Bleed for yourself, and your already dead." -JMM
"The world is a cold single minded child, who learned to throw stones at those whom are different." -JMM
"I looked upon a shattered Earth, and saw that it had been that way since you had gone." -JMM
"Hell is not knowing who you are, hell is not having her that you love, hell is finding out shes already taken, and heaven is when she finally realizes through the tears that you're standing there." -JMM
"I used to want to watch it burn, my tragedies claimed my yearn. I walked the world broken with despair, I wandered here and I wandered there. I never knew just what to do, that was of course until I found you." -JMM
"Hope is the first step on the road to disappointment." -Commisar Gereth in addressing the first infantry.
"What is victory? Is it the destruction of the opposing force or the completion of one's objectives? They may be the same at one instance but there are times when destruction will not lead to victory. Your orders were to 'Hold the line until Alpha platoon evacuated Sector Four'. You moved forward, breaking ranks, thus leaving a hole in the defenses! Thirteen lashes, then cover them with vinegar." -Doyle to Eractus in the event of Eractus' charge
"Smile for your enemies, laugh for your friends." -JMM
"Anger is the complete loss of logical thought, it is the cause of despair and the bane of nations. If we are a world filled with anger, then are we not in essence completely stupid?" -JMM
"If you call yourself useless, who needs you? If you say no one likes you, why would they? If you say all you feel is pain, stop cutting. If you think life is pointless, where is the point? All problems in life start with how you think of the world, and your place in it." -JMM
"Three men can keep a secret from one another if two are dead." -Mark Crawford
"If you take all news as being bad, when then, will you hear good news?" JMM
"To cut yourself because you feel numb is a sorry answer, if you are to cut, cut your pen into paper and write letters. For every letter you cut into existence filled with your feelings, you will feel stronger, less numb." JMM
"To feel the warmth of others, you must cast off your blanket of hatred and despair and let them feel the warmth of you." JMM
"To slake ones vengence, to wreak unrecoverable havoc on ones enemies, and to go to bed. There is nothing sweeter." Joseph Stalin
"Lies are like a double-edged sword. While they cut down your enemies with it, if you use it to much, you'll eventually get cut." JMM
"What is said to a dead lion cannot be said to a live one." Old African proverb
"A dead man can tell no secrets." Joseph Stalin
"Compassion and mercy exists only in personal matters, in the eyes of justice, all whom commit crime are punished accordingly. For any true judge, personal beliefs do not exist in trial, all perspectives are considered, and all whom committed to the act are punished." JMM
"If you let a man survive when you destroy his home, he will chase you, hunt you, and eventually be the death of one of you. So if your going to burn his village, be sure he burns as well." JMM
"Vengeance is a never-ending cycle, no justice is given. It continues until justice stops it and all members of the cycle are punished." JMM
"Life and death, birth and passing, what is the evil in that? All things die and return. They are then born again. The only true evil is nothing." JMM
Me and my fiance!
ANNOUNCEMENT YOU PEOPLE!!! READ ME!!!!!
SPECIAL RAFFLE to celebrate HALLOWEEN is being held AT MY STORE. Click on the link at the top to GO THERE! Buy something and your name will be put in a raffle drawing that repeats October 25th, 2009 to October 31st, 2009. ALL PEOPLE who purchase something in the month of October will be put in the raffle. I will send you a confirmation PM if you win, then when you confirm you want it, I'll send you your prize! Awesome huh? Oh, and every time you buy from my store your name will be put in, so for better chances, BUY BUY BUY!!!
Friends
Viewing 12 of 14 friends
Journal
Max's Journal
MAX'S EYES ONLY!
Personal Notes.
Signature

04*JM*2*N*0*JJ*07