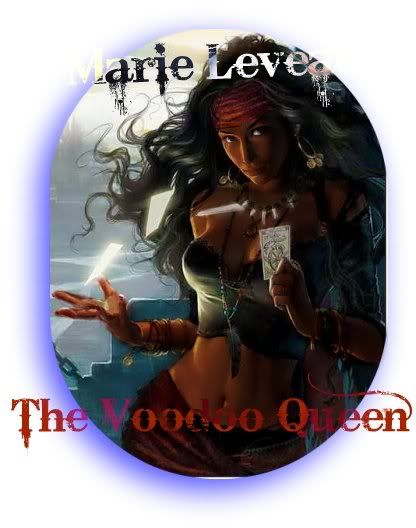 Real Name:  Marie Leveau


Current Alias: The Voodoo Queen


Aliases: Conjure Lady, Madame Leveau,



Affiliation: NONE

Height: 5' 6"


Weight: 145 lbs.


Eyes: Brown



Powers and Skills:



Marie is a skilled Voudoun practitioner with abilities that run in the family, passed on from mother to child, her powers were heightened and turned to a darker side when she was bitten by a vampire, now she has an enhanced strength and speed and a healing factor, but can no longer come out in the sun light, while her human weaknesses are gone she now has normal vampiric weaknesses.

While her physical attributes are upgraded as with most vampires, she has little fighting skill, but makes up for it with her use of magicks. Her weapon of choice is small bone dagger kept sheathed on her thigh carved from the bones of a pair of lovers, the blade made from the male and the hilt the female said to be able to wound the very soul.

Zombies are another signature of hers, not only does she use the dead to do her bidding, but through poisoning and ritual she can stupify the mind of the living to the point where they too do her bidding. Often seen in the daylight with a 'living Zombie carrying an umbrella for her to shield her from the rays of the sun.




Background:



Marie Leveau was a household name deep down in the bayous of Louisiana. For decades everyone knew who she was and went to her for all kinds of things, from curses and hexes to love spells, to dream interpretation, luck spells. Most thought Marie was so power that she'd never die. This in fact was an act, The first daughter in the Leveau family was always named Marie and they never married so they kept the last name. No one ever realized the abilities were passed on through generations. As a Voudoun priestess there was a lot of lore built up around her, and air of mystery, most didn't trudge that deep into the bayou more than once, and those that did said that Marie could shapeshift, appearing as a beautiful maiden or an old crone. They said that the dead and the creatures of the bayou did her bidding. Only half of that was true, she didn't shapeshift, and it wasn't that the creatures in the bayou did her bidding, they in fact avoided the dead, so around her cabin in the bayou there was a certain radius where there was no animals. The fearful creatures fled and the predators followed their prey. So before anyone got within a hundred yards of her cabin there was a thick layer of wildlife often the dangerous kind, or those people were afraid of, spider and rats, snakes and crocodiles.

The current Marie was about the fifth one, a bit more free spirited than her predecessors, she wondered into town and for her efforts was bitten by a vampire. As a vampire Marie seeks to have her name on EVERYONE'S lips not just down in the bayou. Her sense of humor is dark and while she still does the same work, chances are she's not helping but twisting you mind around for her sheer amusement, Marie WILL help for a big price. These high prices have benefited corporations and her pocket, often seen traveling by limo, and residing in large old style mansions, the mansions are always guarded by her dead.




Personality:



Her unpredictable motives and mild insanity make her a dangerous foe, but her lack of ability to physically fight often makes her appear vulnerable, and her opponents underestimate her. Her mood vary from one end of the spectrum to the other, often appearing very very calm and arrogant until she is pissed and the sudden mood swing surprises those her aren't expecting it, and those who are are often walking on egg shells around her. She has a sadistic nature and loves to watch people squirm. She does however intend to pass on her family name, but much different than her predecessors, she intends to make a vampire child and teach HER everything her mother did but she does have to find one suitable enough to carry her prestigious name. She is under no delusions, she knows eventually someone will get the best of her, and is preparing for that time by searching for an heir, to her fortune and legacy which will descend the Leveau line into a darkness that her legend doesn't quite carry yet.