About
I often act like a machine. I only have one eye: o|
Lux Sanctus is my alt account.
I am a team Rper which seems to be very rare. My role in Team Rp is Defense.
I am a Defensive Rper. Go ahead just try to test my defense...
TENGEN TOPPA GURREN LAGANN IS AWESOMENESS!!!!
I live on a small island in Japan called Okinawa.
I am self taught in various forms of MMA.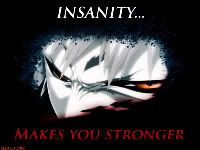 I love Disgaea and BlazBlue!!!
I suck at talking about myself because I
DISPISE
myself.