About
[private message]
[trade]
[add]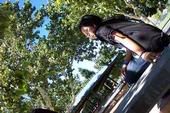 私
は
m`y`a`b`i
チ
ャ
ン
で
す
!
I'm Mica. I'm 18. I am a student and an aspiring linguist and artist, although I need a lot of improvement.
Why don't you check out my
DA
and give some feedback?
And while you're at it, check out my love's
DA
as well
wink
I love rock. Anything from alternative to heavy metal. If you know any good bands or songs, feel free to share
biggrin
I'm a nice person overall [at least I'd like to think], although I have a pretty twisted side to go along with it. I'm pretty tolerant of practically anything, and I if I'm not I tend to be silent about it. That's all I can say for now
Profile v.5- "...And All Things Nice"
Friends
Viewing 12 of 31 friends
Journal
「...And All Things Niceph」
Patches and quilt, photo album, and random stuffs~!! <3
Multimedia