About


ジェニファー
Welcome! I am Lunalit, but you can call me Luna!
I am a literate roleplayer who thrives on Romance and Drama. I really enjoy writing and understanding my characters. My characters I create for roleplays are dear to me and I love each an every one of them.
Well anyways not much to write here. If you want or need people in your RP and you think I qualify please send me an invite!
So won Featured one day
VVVVVVVVVVV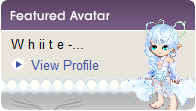 Thank you so much for this!! And thanks for all your compliments and gratz ^.^ ;D
Friends
Viewing 10 of 10 friends
Journal
Pure Love
Hers just a bunch of random crap
Multimedia
Signature
[img:8e4020e72e]http://i6.photobucket.com/albums/y226/migoto_neko/Konachancom_20-_20149895_20brown_hair_20caidychen_20elf_20long_hair_20sword_art_online_20yuuki_as_large_zps2319f507.jpg[/img:8e4020e72e]
[img:8e4020e72e]http://i12.photobucket.com/albums/a237/lyLxfRaNcEs/BANNER THiNGYS/dreamm.jpg[/img:8e4020e72e]